South Korea vows air strikes if North attacks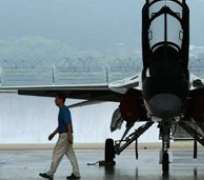 South Korea's defence minister-designate has promised to respond with air strikes if North Korea attacks.
Kim Kwan-jin was responding to questions in parliament during his confirmation hearing.
North Korea shelled a Southern island near the two countries' disputed maritime border last week, killing four people and destroying many homes.
South Korea's chief of intelligence has said the North is very likely to attack again.
Tensions have soared in the region since the North Korean bombardment of Yeonpyeong island on 23 November. Two civilians and two South Korean marines were killed.
The shelling came after South Korean forces conducted exercises in the area.
"If North Korea provokes again, we will definitely use aircraft to attack North Korea," Mr Kim said when asked how he would respond to another attack.
He also criticised his predecessor, saying the military should not have ignored intelligence reports suggesting an attack from the North was likely.
Public pressure
Kim Tae-young was forced to resign just days after the bombardment of Yeonpyeong island, amid criticism that the military's response was too slow and too weak.
Kim Kwan-jin, a retired general and former head of South Korea's joint chiefs of staff, told his confirmation hearing that he would strengthen the military's rules of engagement, to give more power to the head of the military.
He said he would also give more leeway to commanders in the field to determine the level of response to attacks.
The North Korean bombardment produced images not seen since the Korean War 60 years ago, says the BBC's Lucy Williamson in Seoul.
The civilian casualties, bombed out buildings and a mass evacuation were all captured on the nightly news, she says, and the public pressure on the government to make changes is high.