CONTROVERSY OVER INEC BALLOT BOX DEEPENS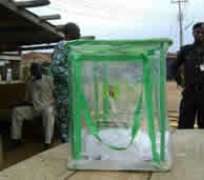 Controversy surrounding the N1.95 billion contract awarded by the Independent National Electoral Commission (INEC) for the supply of collapsible transparent ballot boxes ahead of the 2011 elections has deepened.
The aggrieved firm has written President Goodluck Jonathan, accusing INEC and its contractor of defrauding it and infringing on its patents rights.
INEC had recently secured the approval of the Federal Executive Council (FEC) for the award of the contract for the procurement of 150, 000 units of the ballot boxes at the cost of N13,000 per unit to Messrs Emchai Ltd.
But the aggrieved firm, Bedding Holdings Limited, which is claiming to have the patent and copyright for the design of the collapsible transparent ballot boxes said the deal was entered into without its prior consent, licence and authority.
The matter is already in court.
Last Thursday, the firm wrote to Jonathan through its lawyer, Chief Assam E. Assam (SAN), alleging gross infringement on its patents, and warned that unless the issues are quickly resolved, the upcoming elections may be jeopardized.
The lawyer said the FEC may have been deceived by a memo from INEC to believe that Emchai Ltd was the original patentee for collapsible transparent ballot boxes for which a supply contract had been awarded by INEC, saying that Emchai Ltd is not a repository of patents for the said boxes.
According to him, Bedding Holdings Limited's patents to the collapsible transparent ballot boxes are not in doubt, 'since by virtue of certificate of registration of patent dated January 12, 1998, the minister of commerce and industry, on behalf of the President, Federal Republic of Nigeria, issued our client with the registration of patents rights No RP 12994 and the registration of industrial design rights No RD 5946 in and over transparent ballot boxes.'
According to the letter, the patentee had, standing on its exclusive rights to the products, granted in 2003, license to INEC, to use its designs for which 500,000 ballot boxes were procured for the conduct of the 2003 general elections wondering why the same commission that sought its rights in 2003 has now decided to infringe on it by approving Emchai Ltd as patent owner, instead of abiding by the patent laws.
INEC director of public affairs, Mr. Emmanuel Umenger, did not pick repeated calls to his mobile phone, nor did he reply a text message sent to him.