ENUGU PDP CRISIS: EX-PDP AUDITOR ACCUSES NWODO OF DOUBLE STANDARDS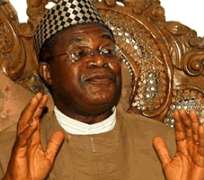 Former national auditor of the Peoples Democratic Party (PDP) and erstwhile factional chairman of the Enugu chapter, Mr. Ray Nnaji, has taken a swipe at the National Chairman of the party, Dr Okwesilieze Nwodo, over reports that he and his supporters requested that party structure and elective positions in the state in the upcoming primaries of the party be shared.
Nnaji, in statement yesterday in Enugu said a national daily (not Daily Sun) had reported that the national chairman and his supporters allegedly met with the First Lady, Dame Patience Goodluck, last week and demanded equal sharing of structures and party positions between Governor Sullivan Chime and Nwodo as solution to the crisis rocking Enugu PDP.
The former factional chairman, who had disassociated himself from the Ebeano group to embrace the Abba-led state executive committee of the party, queried the rationale and moral justification behind such demand from Nwodo and his group.
He was angry as he said the request was coming after their failed attempts to mislead INEC, misrepresent issues and take advantage of the misunderstanding between Chime and his predecessor, Senator Chimaroke Nnamani, over the 2008 PDP congress to hijack the party structure in the state. He stressed that such demand was not in line with the doctrine of internal democracy, which Nwodo preaches and had sworn to uphold.
'It is morally wrong, absurd and contradictory for Nwodo to start asking for a share of the party structure and elective positions in Enugu State between him and the governor, even without considering other party elders in the state, such as Senator Jim Nwobodo and Senator Ken Nnamani. Is this the kind of internal democracy Nwodo is preaching for in the party? Is harmonisation anywhere in the constitution of the PDP? Why should Nwodo, after unilaterally and purportedly dissolving the Enugu State executive committee of the party, through his personal aide, Ike Abonyi, quickly constitute a congress committee made up of his close friends and business associates?
'This is clear evidence that the main issue in contention is not the validity of the current executive committee of the party in Enugu State but the desire of the national chairman of the party and his group to hijack the party in the state towards advancing his personal interest in the forthcoming general elections. I am happy that the Court of Appeal, Enugu, is firmly in control of the matter,' Nnaji said.
He pointed out that the unilateral and purported dissolution of the Enugu PDP executive by the chairman through his media aide violated Article 12.72(e) of the PDP constitution, which states that 'it is only the National Executive Committee of the party that can suspend or dissolve a State Executive Committee of the party and such suspension or dissolution shall not exceed three months.'