NASS Allocation: Sanusi Stands Firm, Refuses To Apologise To Senators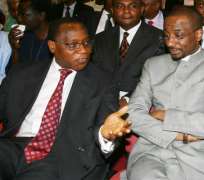 ABUJA, Dec 01, (THEWILL) - Fuming Senators were today disappointed as the Governor of the Central Bank of Nigeria, Lamido Sanusi stood his ground and refused to retract a statement credited to him claiming that the National Assembly gulps 25% of Federal Government's overhead funds.
Sanusi had at a convocation ceremony at Igbinedion University in Benin, Edo State said that the National Assembly collects 25 percent of government funds.
Following that statement, the Senate had summoned Sanusi and the Minister of Finance, Dr Olusegun Aganga to the Senate Chamber over allegations about funds allocated to the National Assembly in the 2010 Appropriation Act. Aganga had also made comments suggesting that funding the National Assembly was taking a toll on the nation's finances and reportedly said a committee had been set up to prune down funds allocated to the NASS in 2011. But speaking at a public hearing convened by the Senate on Wednesday, Aganga denied setting up any committee to cut NASS votes.
Aganga was first to testify before the Iyiola Omisore-led Committee on Appropriation, Finance, Banking and Other Financial Institutions and Millennium Development Goals (MDGs). "I didn't know why I was invited; it wasn't clear to me. I have not and I did not and would not make any statement to anybody in the media. I never said I was in the process of cutting the NASS budget," he said. Next was Sanusi who bluntly refused to apologize to the Senate over comments credited to him on NASS allowances. The CBN governor told Senators that he got his information from the Director General of the Budget Office, Bright Okogu. Sanusi stood his ground insisting that he stood by the figures with which he concluded that the NASS collects 25 percent of the federal purse. He opened his defence by stating that what he actually said was that "25 percent of overhead of federal government goes to NASS. He referred Senators to page 861 of the 2010 Appropriation Act. "I have figures from the Budget Office and overheads is N536.2 billion while NASS overhead is N136, 259, 768, 102 which is exactly 25.41 percent of federal government overhead. That's as far as the text is concerned," Sanusi said. Omisore asked Aganga to corroborate Sanusi's figures, adding that the CBN Governor deliberately refused to include N660.8 billion of service-wide votes which are also included in federal government overheads for 2010.
Photo L-R: Deputy CBN Governor, Dr (Mrs) Sarah Alade; Finance Minister, Dr Olusegun Aganga and CBN Governor, Malam Lamido Sanusi. Aganga explained that although overheads doe not include salaries and emoluments, "I confirm that we normally include service-wide votes with the overheads." Going by Omisore's figures, which he posed to both Sanusi and Aganga, a calculation of N536.2 billion and N660.8 billion means that the federal government alone collects more than N1.3 trillion for overheads. The Appropriation Committee Chairman then asked Sanusi why he deliberately left out the service-wide votes from his calculation of overheads for the fiscal year. If he had done so, Omisore averred that the NASS overheads could not have amounted to 25 percent. He said: "It's deliberately to confuse and mislead Nigerians. If the CBN Governor is talking of overheads, he doesn't have the correct figures. Let him say the figures publicly here." Sanusi replied: I'm speaking under oath. I gave you figures I got from the Budget Office. These are the figures I got from them. I'm not misleading anybody." Chairman of the Banking Committee, Nkechi Nwaogu asked Sanusi if, knowing what he knew, with the information provided at the public hearing on the correct figures whether he would not apologise over the misleading figures he had earlier given Nigerians on NASS. "Now that you know that the N660.8 billion was not included in your earlier calculation, now that you know that your figures are incomplete, are you still standing on what you know? "Is NASS collecting 25.41 percent or just 3.5 percent?, Nwaogu asked. Again, Sanusi refused to apologise. "I have said everything I am supposed to say. If we include the service-wide votes, then the denomination would of course be different but really, I have said everything I am supposed to say on the matter." At a point in his defence, Sanusi offered to "quit without a fight." "By my upbringing, if I am wrong, I don't need to be told to come and say I am wrong and I would apologise. By my nature, if I am not convinced that I'm wrong, I do not apologise and this is really where the point is. "I gave a number and I said where this number came from. I did not abuse anyone. I did not attack anyone. I did not say anybody stole money. I was not given a chance to say the context in which I gave this number. "Nobody has heard my side of the story on why that number came in; why the 25 percent came up… "There's need to reduce the overheads, to reduce the expenditure, especially in government spending. I would like to add that I also spoke about government subsidy on the petroleum sector; I spoke about the banking system but the newspapers decided that this was the bit they wanted to talk about. "I did not go there to talk about the National Assembly. The reference to NASS was just one sentence, in a two and a half hour lecture." Omisore replied him: "We thank the Finance Minister for your tolerance. It's not out of tune for you to admit that your figures were incomplete. "Based on wrong computing, you have embarrassed not only the NASS but also Nigerians. We have given you figures and you are still relying on the figures that are not before us. I thank you all for coming."