SNOW AND ICE CAUSES DISRUPTION AS COLD SPELL CONTINUES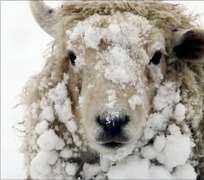 Large parts of the UK have been brought to a standstill by the early freeze
Further snow and freezing temperatures are causing major problems for road, rail and air services in much of the UK, and thousands of schools are shut.
There are icy road warnings, and up to 15cm of snow could fall in some areas.
Many roads are gridlocked, some trains and buses have been cancelled, and Gatwick and Edinburgh airports will be closed until at least Thursday morning.
The Met Office has issued heavy snow warnings for much of the eastern side of Britain and some central areas.
Avalanche warning
In England, heavy snow warnings are in place for Yorkshire and Humber, the East Midlands and north-east England. In Scotland the warnings apply to Grampian, Central, Tayside and Fife, Strathclyde, south-west Scotland, Lothian and Borders.
More than 250,000 Scottish children are having a day off – many for the third consecutive day – with a third of councils closing all their schools. Some have told parents they will remain closed for the rest of the week.
WEATHER AND TRAVEL INFO
Get the latest on school closures and travel problems via your local website
Check if snow is forecast in your area at BBC Weather
Details of motorway and local road closures and public transport disruption are available at BBC Travel News
For advice on handling difficult driving conditions, see the Highways Agency website
For information about severe weather warnings, see the Met Office website
For information about staying healthy in the cold weather, see the NHS Winter Health website
An avalanche warning has now been issued in the Cairngorms, near Aviemore, where hundreds of skiers took to the slopes on Tuesday.
Police are advising people not to travel unless absolutely necessary – especially in the worst-hit areas of Scotland, Yorkshire, Derbyshire and south-east England.
Supt Chris Moon of Surrey Police said the county's conditions were the worst he had ever seen and were likely to deteriorate further. He added: "I have put out several severe weather warnings in my career, but this one I really must stress."
In Kent some roads in the west and north of the county are impassable due to snow and ice.
Thousands of rail commuters face severe disruption to their journeys in Scotland and northern England – particularly in the Sheffield area. London and the south-east has also suffered, including delays and cancellations to Southeastern services operating out of London Victoria and Charing Cross.
All through the night we were promised buses from Hastings and other areas, none of which came'
Tony Scott
Stranded rail passenger
There are delays on the East Coast Main Line, with an hourly service between London and Edinburgh, and reduced services between London and Leeds and London and Newcastle. Passengers face delays of up to an hour on Eurostar services.
National Rail Enquiries (NRE) has set up a phone hotline to information about snow-related disruption, on 08453 017 641, and also has updates at @nationalrailenq on Twitter.
One of the worst affected areas of England is South Yorkshire, where snowfall of up to 30cm (12in) has brought parts of the county to a standstill.
About 300 schools are shut, bus services have been suspended in Sheffield, Rotherham, and Doncaster, and there are delays and cancellations on train services between Sheffield and Leeds, as well as flights being halted at Robin Hood Airport in Doncaster.
Hospitals in South Yorkshire are asking patients not to attend unless it is urgent, and they have asked off-duty medical staff to make their way into work if possible. Meanwhile Sheffield City Council has cancelled its full council meeting for the first time and the Halifax Courier newspaper has not made it out, also for the first time, because it is stuck at the printers in Sheffield.
All night train-trip
BBC weatherman Liam Dutton said up to 10cm of snow could fall in East Anglia and south-east England, with up to 15cm possible in north-east England and south-east Scotland.
"Temperatures will be barely above freezing across the UK and when you add in the effect of the wind chill, it will feel much, much, colder than that," he said.
The early cold spell has taken everyone by surprise
Overnight temperatures hit a low of -20C in Altnaharra in the Highlands.
However, south-west England, Wales, western Scotland and Northern Ireland should enjoy sunny spells.
The disruption on Wednesday includes:
Severe disruption for air passengers at Gatwick Airport where its runways are closed until 0600 GMT on Thursday. Edinburgh Airport is also closed until at least Thursday morning. Guernsey Airport, Robin Hood Airport in Doncaster and Durham Tees Valley Airport are also shut, while other airports are disrupted. Newcastle Airport has reopened. Passengers are advised to check with their airline.
Hundreds of school closures in England, including nearly 1,000 full or partial closures in West, North and South Yorkshire, about 330 schools in Essex, around 550 in the South East and Surrey, more than 800 in the East Midlands and 195 across Tyneside, Wearside, County Durham and Northumberland
The M8 motorway between Glasgow and Edinburgh is down to one lane in each direction and the Forth Road Bridge has been closed due to snow for the first time
In Fife, the M90 is closed and traffic is queueing northbound between J2, A823 (Pitreavie) and J3, A92 (Halbeath)
In Kent the M20 is closed with long delays for London-bound traffic between J3, M26 and J1, M25, because of ice, snow and a jack-knifed lorry.
In Derbyshire, one lane is closed on the M1 southbound, with delays between J29, A617 (Chesterfield) and J28, A38 (Alfreton), because of recovery work and a jackknifed lorry.
In West Yorkshire, one lane is blocked on the M62 in both directions between J23, A640 (Huddersfield) and J26, M606 (Chain Bar), because of snow
The Dartford River Crossing has reopened, but there are severe delays
There are delays and cancellations to Southeastern services, which operate out of London Victoria and Charing Cross. No Southeastern trains are running between Victoria and Dartford, Charing Cross and Hastings and between Strood and Paddock Wood.
Passengers trying to travel from Newark to Lincoln faced a night sleeping on the station after all connecting road and rail services cancelled.
Rail firm Southeastern said at least three of its trains travelling from London to Kent were stuck for around five hours overnight, stranding about 60 passengers, who have now been taken off the trains. Train services are still severely affected.
On Tuesday evening many drivers and rail passengers were stuck for hours as the weather worsened.
Tony Scott started his journey home from London to Tunbridge, in Kent, at 1730 GMT on Tuesday and had still not arrived home 10 hours later.
He told the BBC he tried to pick up at train at London Bridge station but they were so overcrowded it was impossible to get on.
"Myself and the friend I'm travelling with decided to grab a meal. When we returned to the station there was still no information on when trains may come. We asked station staff if the trains were cancelled and if it would be wisest just to find a hotel for the night. The staff… kept telling us the trains were delayed, which implied trains were coming.
"A train finally arrived at 0130, but it stopped at Orpington, stuck. All through the night we were promised buses from Hastings and other areas, none of which came. None of the staff on the train knew anything. My friend and I even phoned Southeastern, but no-one there even knew that our train was stuck."
He said the train started to travel back towards London at 1030 GMT on Wednesday, with passengers being told they would be returned to London Bridge before heading back towards Kent.
Meanwhile the AA motoring organisation said it had had an "exceptionally busy" morning, with 3,500 breakdown calls attended by 0900 GMT. Rush-hour calls peaked at more than 2,000 an hour, said a spokesman, with the busiest areas including south London and the M25, and the Leeds and Sheffield areas.
Halfords said an additional 16,600 sledges were being shipped in to meet increased demands.