DRAMA AS UDUAGHAN'S AIDE DISRUPTS ASSEMBLY'S SITTING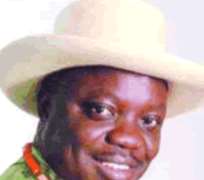 Uduaghan
There was a mild drama, last Tuesday at the Delta State House of Assembly, as an aide to one of the commissioners  in the ousted Dr. Emmanuel Uduaghan  administration Mr. Anthony Akosiahwe, also known as  Jimrah, disrupted the sitting of the House, shouting, 'Uduaghan must rule again.' A development that  disrupted the deliberations in the House.   
As a result of this , a member of the House representing Aniocha-North, Mr. Victor Ochei moved for his arrest by the House. He was subsequently supported by another and with this, the Acting Speaker,    The motion was adopted and subsequently the Acting Speaker, Mr Basil Ganagana called for his arrest and detention.  
Meanwhile, Delta State Acting Governor, Honourable  Prince  Sam Obi has  sworn-in four new Commissioners  following their screening  by the  lawmakers in the State. 
The four new Commissioners   include Messrs  Paulinus Akpeki, Brave Enodeh, Dumbiri Uweh and  David Ekereokosu.  The  appointment of the  new Commissioners, Daily Sun learnt ,  was based on their qualifications, party affiliation, contributions to the State development and years of Service in their fields of endeavours.      The Majority leader, Chief Sunny Emeyese who moved the motion for their confirmation, said the Commissioner-nominees have proved their capabilities and dedications both in their service delivery and qualifications.
Two of the Nominees, Messrs Ngozi Okolie and Leonard  had their  appointments as Commissioners  stepped down
This followed  what the House referred to as the  inability of the candidates   to present the copies of their Credentials as well as answer relevant questions posed to them during the screening.
However, the Acting Speaker, Mr. Basil Ganagana tasked them to present their Certificates before the close of work to prove their worth.    
 Ganagana reiterated the commitment of the House at appointing men and Women of integrity into  various positions in the State.