Budget 2011 Ready For NASS Next Week – Aganga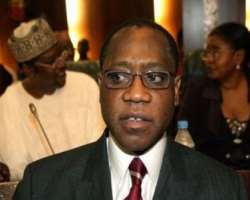 PHOTO: FINANCE MINISTER OLUSEGUN AGANGA.
ABUJA, Nov 29, (THEWILL) - Finance Minister, Olusegun Aganga today hinted that the 2011 Appropriation is almost ready and be presented to the National Assembly next week just as he defended the Federal Government's implementation of the nation's 2010 budget saying that despite the setbacks its execution is on course with aggregate Capital Releases standing at N696.734 Billion as at October 31st.
There were speculations that the budget was deliberately being delayed because the Federal Government intend to increase the pump prices of petroleum products as well as devalue the nation's currency, but the Minister's address has punctured that speculation.
Aganga said that based on the revised budget structure, Federal Government Budget Revenue is planned at N3, 179.87 billion, while aggregate Expenditure was projected at N5, 159.66 billion, including capital expenditure of N1, 764.69billion and MDA Recurrent Expenditure of N2, 669.01 billion. The fiscal balance is a projected deficit of N1, 979.79 billion (or 6.06% of GDP).
The Minister of Finance with his counterpart Minister of state for finance, Mrs. Yabawa Lawan Wabi and other Heads of Departments and Agencies under his ministry, made these disclosures during the Ministry's 2010 ministerial press briefing yesterday.
Aganga explained that Nigeria has relatively low levels of debt as a percentage of its Gross Domestic Product (GDP), stating that the total external debt stock as at September 30, 2010 was $4.534 billion out of which $4.152 billion or 91.58 percent were from concessional sources just as the total domestic debt as at the same period was N4.23 trillion, with FGN Bonds constituting over 65 percent of the domestic debt stock.
"Although there were initial challenges with revenue performance, particularly in the first quarter of the year, oil revenue receipts improved significantly during the year due to relatively higher international oil prices and the improving oil production made possible by greater peace and stability in the Niger Delta region.
"However, there have been some shortfalls recorded in some items of both oil and non-oil revenue. While Companies Income Tax and other taxes have performed fairly well, there have been shortfalls experienced in Customs revenue and remittances of Internally Generated Revenue.
"Accordingly, as at 31 October 2010, there was an aggregate shortfall of N137.29 billion (or 6.61 percent) of the N2, 078.19 billion projected to have been achieved in terms of FGN Budget Revenue inflows," Aganga said.
He assured that Government was intervening in various ways to realise revenue targets including the forensic audit of Nigerian National Petroleum Corporation (NNPC), process audits of Internally Generated revenue Remittances (IGR) from Ministries, Departments and Agencies (MDAs), requiring that MDAs and parastatals submit their revenue and expenditure estimates alongside operating surplus projections for 2011.
"Despite these challenges, the implementation of the 2010 Budget is well underway with the on-going release of the recurrent and capital votes. Regarding capital budget implementation, aggregate Capital Releases to date amount to [N696.734 billion] comprising: Q1: N197.325 billion, Q2: N200 billion, Q3: N220 billion and AIEs: N79.409 billion," he said