Civil Society Groups Stage Rally for Kidney Diseases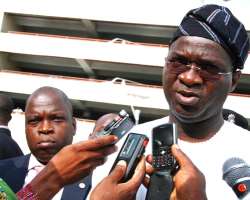 PHOTO: LAGOS STATE GOVERNOR BABATUNDE FASHOLA.
LAGOS, Nov 29, (THEWILL) - Scores of civil society actors and human rights activists today flooded the Lagos State seat of power in Alausa, asking the administration of President Goodluck Ebele Jonathan to intervene in the growing cases of kidney and renal diseases in the country.
National President of Campaign for Democracy (CD), Dr. Joe-Okei Odumakin led the rally, which started from Allen Avenue Junction and ended in the office of Governor Babatunde Raji Fashola, calling the governments at different levels to help prevent the rising cases of kidney and renal diseases and crises in the country.
Such groups as Campaign for Democracy (CD), Save Nigeria Group (SNG) Youth Wing, Women Arise for Change Initiative, Artists for Change Initiative, Kidney Rejoice, comedians and musicians participated in the march aimed at sensitizing Nigerians and drawing attention of the governments to the devastative effects of kidney and renal diseases.
Okei-Odumakin addressed the gathering at Alausa, expressing concerns on the rising cases of kidney and renal diseases. She said a good number of people having kidney problems could not afford money for transplant.
She also asked the administrations of President Goodluck Ebele Jonathan and Governor Fashola to come to assist those who are currently suffering from the acute kidney and renal diseases in the country's hospitals.
She sought governments' support for the Kidney Rejoice Foundation of Hadunni Ogunjumelo, a TV presenter and other independent efforts to stem the menace of kidney and renal diseases in Nigeria.
But Governor Fashola told the group of civil society actors about various actions his administration had taken to address kidney and renal crisis in the state, saying the state would soon be the West African referral centre for comprehensive renal and cancer treatment before the end of the first quarter of 2011.
He told the gathering of some advocacy groups, notable actors and actresses, who have gone round Lagos metropolis to sensitise residents about kidney diseases that his administration had taken steps to tackle kidney problems.
He said the first of the state efforts at addressing kidney crisis led to the construction of a renal and cancer centre in Gbagada General Hospital as a response to huge cost the state is spending on kidney patients.
"We have spent certain amount of the state government budget on the treatment of kidney patients. We send them to England, US, India. In this year alone, we have done about 300. Kidney diseases are a rising global menace that currently claim huge percentage of health budgets globally.
"But just as we have spent money sending people abroad for treatment, so will Gbagada will be the destination of all kidney patients in West Africa. We are already recruiting staff and consultants. This project will bring back home some of our experts currently working abroad," Fashola said.