CHIME'S OPPONENTS ARE USING NWODO – NWIGWE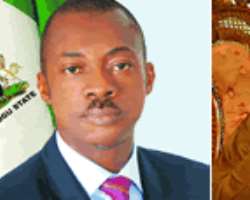 Chime & Nwodo
A key supporter of Enugu State Governor Sullivan Chime in the festering feud between him and the National Chairman of the Peoples Democratic Party (PDP), Dr. Okwesilieze Nwodo, has accused the latter of playing into the hands of those who want to forcefully wrest power from the governor through the back door.
Mr. Amobi Nwigwe told Daily Sun in Abuja that Enugu would be the worse for the face-off, because of the precious time that would have been used in advancing the cause of the state was being wasted as the two illustrious sons bicker over the proposed reconstitution of the party executive committee in the state.
Nwigwe, an Abuja-based legal practitioner  and member of Enugu State Scholarship Board, said the idea behind Nwodo's decision to dissolve the state executive committee of the PDP was to incapacitate Chime ahead of the party primaries by destroying the structures he had already put in place for that purpose.
Describing this as regrettable and counter-productive, he accused Nwodo of repaying the governor in bad coins, considering how Chime fought not only to ensure that Nwodo  was readmitted into the PDP, but also that he emerged National Chairman despite stiff opposition from many quarters.
'I would have thought that the National Chairman that we all respect should work with him to advance the cause of Enugu State. We are all very angry over the manner Nwodo is treating the Enugu Governor and I suspect that he is being used by people who want to run election against the governor,' he said, even as he advised Nwodo 'to change course and work with the Governor for Enugu state.'
He insisted that dissolving the state executive committee as the national headquarter under Nwodo had recently done would not only undermine the peace that the state had enjoyed under the leadership of Chime, but also throw up another round of internal wrangling that would inevitably weaken the party at the next general elections.
Urging Nwodo to reciprocate the governor's goodwill towards him, Nwigwe said his position was informed by the role Chime played to get Nwodo into the exalted office as chairman of the ruling party.
'Before he became the chairman of the party, the governor made sure that he got a waiver for him to do that. He also threw a lavish reception for him, and during the Enugu stakeholders' meeting in Transcorps, Abuja he had thanked the governor for what he did for him and promised that there was going to be peace in Enugu. So I am very surprised at what is happening in Enugu; so I advise him to change course immediately.'
The native of Awgu claimed ignorance of the National Chairman's allegation that Chime had made it practically impossible for him to obtain a membership card of the party in his ward, with the result that even though he presides over the affairs of the PDP, he still has no membership card. However, where that was the case, he reasoned, the governor should not be blamed because, in his words, Nwodo himself had not been able to show leadership.
His words: 'I am just hearing that (denial of membership card) for the first time. But I feel that Nwodo did not show leadership. He said that INEC had directed that congresses be done in eight states, and he singled Enugu OUT, his own state as a test case.
'It is not good, because leadership is about providing level playing field for people, so you cannot be partisan; if you want to abide by what INEC said, you should have ordered the congresses in eight states, not just in your own state, it's a failure of leadership. And it is regrettable.'
Besides, he wondered why the National Chairman should turn round to seek for party membership card from those elected from the congresses which, he had dismissed as illegal. 'So if it was illegal, why was he asking them to give him a card? He should go and look for card somewhere else, that's the way I see it,' he reasoned.
Reminded that it was INEC, and not Nwodo that voided the earlier congresses held in the affected eight states, Nwigwe said there was no reasonable justification for starting the proposed congresses in the National Chairman's native Enugu state. Similarly, when reminded that the congresses had to begin somewhere, he said: 'I do not agree, I won't accept that because election is around the corner, if he wants to do that, the entire eight states must be involved in your decision, you don't have to single out one state. If it has to begin somewhere, must it be in his own state?'
The governor's camp in the lingering face-off appears to be afraid of another round of congresses, having already had their men in places ahead of the party primaries. But much as Nwigwe conceded that at the heart of the feud was the question of primaries and who conducts them, Chime, he noted, was never afraid of another round of congresses, provided there was a level playing turf for all the parties involved.
He, however, pointed out that what is at stake was the control of the party structure in the state: 'We are not talking about charity, we are talking about destroying a structure, it's not charity.'
Stressing that nobody was afraid of the convention, he said the governor had delivered the entire local government areas for the PDP.
'The governor is not afraid of anything, what is happening is that some people who want to run against the governor are using Nwodo, knowing that they cannot win election, they are trying to use him to destroy the legacy of the governor; they're trying to get to the Government House through the backdoor,' he alleged.
Such opponents, he maintained, are afraid of going to the primaries against the governor because they know they would lose. According to him, 'that's what they are doing; that's what is happening in Enugu. It's not about the governor being afraid, the governor is not afraid of anything because he has kept the whole PDP in Enugu as one body. They won all elections, there was total peace in Enugu before Nwodo came along. 
So, there is no issue of saying he is afraid of any congress.
'What we are saying is that there was no level playing field; what we are saying is that there was lack of leadership, and we won't accept that. If he wants to dissolve the executive, he must dissolve the whole eight states so that everybody will go and do it,' Nwigwe said.
Asked to name those people 'using' Nwodo, and whether the National Chairman had been seen to be favouring any candidate, he said much as he would not name names, the National Chairman's body language had said it all.
'if you break an egg, you must make an omelet; we are looking at his conduct and his unprovoked aggression against the governor, and the only inference we can draw is that he has a hidden agenda. And the people he surrounds himself with are the same people who are looking for one post or the other, we see them, we see what they are doing; so we have to make some inevitable conclusion.'
On how Nwodo had been aggressive to Chime, Nwigwe said the national chairman's ill-will towards the governor was evident in 'the kind of press conferences he had been giving, insisting, however, that Nwodo was going against the will of the people of Enugu.
'The entire traditional rulers in Enugu State, over 300 of them, said that they have endorsed Governor Chime for a second term, and these people are the custodians of the culture of the people of Enugu State.'
According to him, besides the royal fathers, student groups and many others had come to endorse Chime, who he said enjoy over 90 per cent approval rating. In effect, he said, it would amount to an act of aggression on the part of any person, who tried to stop the governor from doing a second term.
'The governor has done well; he is the best governor in Nigeria, he should be returned, he should be allowed to contest, he should contest, and we are sure he will win,' he said.
Reminded again that Nwodo had never said Governor Chime would not be allowed to contest, he accused the National Chairman of trying to put spanner in the works of Chime.
'That's what we are saying. There was complete peace in Enugu PDP before this thing started happening, so why should you come and do this in election time? What do you want? Are those in party executive not people of Enugu state? Are they criminals? They are respected people; whom are you going to bring?, he queried.
Nwigwe  recalled that during the stakeholders reconciliation meeting in Abuja earlier in the year, Nwodo had extolled the party leadership in the state and described them as respected indigenes of Enugu and had admonished the gathering which had Chief Jim Nwobodo in attendance to allow them to continue in office.
'He was told in clear terms that there was no need for another election in Enugu State.  There is absolutely no need, so I am very surprised that it has become an issue now,' he said.
He said Chime's achievements in office should be able to speak for him because he had done more than was expected.
'As far as I am concerned, he is the best governor in Nigeria. Before he came, Enugu was in shambles, there was no security, there was no infrastructure. He came in and went about making sure that Enugu is one of the most secured in the South-East now and we have seen the tangible results of his governance.
'We have seen infrastructural development, there is peace, and the most important thing is that everybody in Enugu enjoys his human rights. There is no harassment, people go about their lives. They are free to say what they want to say. Most of these so-called opposition that never came to Enugu when Chima (Nnamani) was there are back to Enugu state, staying in hotels, nobody is molesting them.
That is what is called democracy. And that's why we are saying that the man should be allowed to continue because that political culture that we have in Enugu should continue. We don't believe in violence, we believe that everybody no matter his/her opinion should air it, no mater what you want to say, you should be allowed to say it, and that's what the governor has done, and that's why I think he should continue.'