CYBER SECURITY: THE WAY FORWARD IN CRIME PREVENTION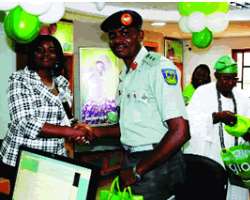 Information Security experts believe that Nigeria must create the right access to information and refocus more on national security strategy. Speakers that presented papers during the Information Security Awareness Week organized by the Information Security Society of Africa (ISS) applauded the Subscriber Identity Module (SIM) card registration as a way of stopping crime in the country.
Tagged: 'Securing Information Systems in Africa for Future Generations,' One of them, who was also the President, Information Security Society of Africa, Nigeria and General Manager, United Bank for Africa, Mr. David Isiavwe stressed that today's fraudsters aren't just bored teenagers anymore. The online criminals of today are skilled computer experts who know how to manipulate people's computer to achieve their own personal gains.
'The face of cybercrime is therefore changing to a more malicious, financially driven and harder to detect framework across the globe. There is no doubt that our world is getting more sophisticated by the day and as new technologies evolve and get deployed into production systems in banks, manufacturing concerns, governments, hospitals, oil and gas and general personal endeavors and general commerce, new vulnerabilities also emerge which can be exploited by unscrupulous persons for illegal and unauthorized purposes'.
At the inaugural Information Security Conference (ISC), he noted that several techniques that include masking of password, pin protection and firewalls were necessary to combat computer frauds. While warning that computer users should not keep passwords on their systems, or use common passwords like the names of kids, birthdays, or other words and not to give password to someone else.
Isiavwe noted that organizations or any country ought to secure applications,
web services, data, demonstrate compliance, review all daily logs, talk to security experts/consultants and take prompt action, while citing the hacking of Punch's website and other organizations whose information were easily accessed for lack of information security.
Another expert, Chief Executive Officer (CEO), Valucard Nigeria Limited, Mr. Kyari Bukar, explained that optimising the security components of card transactions was important to protect users' fund as well as sustain confidence in card payment in Nigeria.
According to him, losses from card fraud affect card usage rates, authorisation parameters, operational process and staffing while also decreasing profit margins.
'These losses can endanger the most valuable asset acquirers and issuers have their relationships with business partners and consumers'.
He also said that the monthly withrawal transactions on the Automated Teller Machine (ATM) in Nigeria has hit N80 billion, while that of Point of Sale (POS) range between N1.3bn and N1.4bn across the country. He cautioned that close attention must be paid to a new technology and processes that may prove to be effective in combating e-payment fraud.
Burkar also pointed had that there been drastic reduction in cases of ATM fraud in the country.
He said: 'I will say categorically that there has been serious reduction in the cases of ATM fraud in the country. This has been adduced to the various campaigns by both government and the regulators on the need for ATM users to ensure that they keep their cards safely, without given their pins outside to people who will defraud them.
'One thing that has been done was the issuance of EMV Chip/PIN cards to the people. We still need proper legislation on this to get the message circulated. People can use their ATMs safely for now. Operators are still working on more security features that would make us to be ahead of fraudsters.'
Addressing phishing and fraud in the banking system, Karel Roue said that if phishing continues unabated, the best was to get the phishing site down because everything was all about brands.
Mrs.Adedoyin Odunfa also disclosed that Nigeria is globally rated low in Human Development Index (HDI) and stressed that there was the need to build Capacity building in Africa.
Odunfa, who presented papers on capacity building in Africa: The information security challenge, informed that Nigeria should dis-emphasise paper qualification, which, in most cases are promoting mediocres.