FUNKE AND I ARE BACK TOGETHER – SAIDI BALOGUN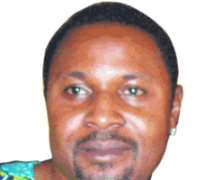 Saidi Balogun
Just before Funke Adesiyan's interview in last week paper hit newsstand, she called us to say she has made up with Saidi Balogun. She wanted us to pull the interview but it was a little too late. She extol the good virtues of Saidi and told us he's a good man. she wanted another interview but we declined insisting on speaking with Saidi. he called us and the conversation below ensued. its a 'part two' of a romantic comedy.
When are you releasing Eti Keta?
Eti Keta will be showing first at cinemas across Nigeria and afterwards, it will be released on CD.
When will it go to the cinemas and which cinemas ?
I won't mention names of cinemas but all standard cinemas will be featuring it because Eti Keta is a standard movie. It will start showing from December. We are concluding the arrangements.
Have you finished shooting Eti Keta?
Totally. We are done, we are happy with it now.
Do you think this film is better than ModupeTemi?
Yes, every good producer aims higher. Look at the people making cars, they give you a better model as they grow.This is better than Modupe Temi or Gbogbo Ere.
So what makes it different from the other two?
The quality of the film is good and it's standard. The storyline is for today's people. There are certain things you do and you may not know it's not good or you may think you are doing it for revenge or anything. That is not good. You must watch things you do, things you say, how, when, and where so that people don't misquote you. The good and bad things the third party must not know.
So what is the storyline of Eti Keta?
You should watch it.
Who are the guys in Eti Keta?
A lot of guys and gals including Kate Henshaw-Nuttal, Eniola Olaniyan, Jide Kosoko, Baba Wande, Sunkanmi Omobolanle, myself, Sola Kosoko, Deji, Safi who sang love me jeje love me tender, Kunle Aford, Femi Ogedengbe, and Kola Olaiya. It was directed by Daniel Ademinokan and myself . Funke Adeshiyan is there too and she played the lead role.
Can we confidently say this is the biggest film ever?
I will say yes and no. Yes, in the sense that for now it's my biggest. The one I'm going to do after this will be bigger and it's going to be premiered in the UK. In Dublin, the premiering is in January. We're planning to premiere it in the UK in December too and in the US in February.
Have you spoken to the cinemas and have they agreed to run it?
They will love it by the standard of what they've watched. If you saw the promo, you will know what we are talking about. It's now left for the audience to watch and accept it but as for professionalism, a lot of producers have watched it and told me 'you've done a fantastic job'.
After Eti Keta, what's next?
I have a lot of projects lined-up. After Eti Keta we have One Cap, You and I, and The Rider . I'm going to work harder ,because Remi Adikwu said 'my boy if you want to do things, do it better than this because this is of high quality'. I'm a creative person, so I have too many things on my neck now, entertainment wise to be distracted, because we have to recoup all the money we spent.
Are you still singing?
I'm an entertainer, why not? Do you have money to spray here, and I will start singing for you, (laughs).
Would you release Dupe Temi and Gbogbo Ere into the market?
On Modupe Temi, someone asked me a question and I said man Ori tife fo which means on Modupe Temi, we've concluded arrangements to write a book and release it as an audio CD . So when you are driving, you can be playing the CD and learning the message, so it is not over until it is over.
But I will want them sold as movies at Silverbird, the Palm and all such places?
But they're already out as home videos so if we want to take it out there, people will be like 'I already have it at home so what am I looking at'.
So, if the idea of the cinema is viable in the long run, we are going to throw it open on the net and people may say 'yes we want to see them' because you know it's not easy taking them back. The adverts and all of that will cost money and we've got to be sure that we can make our money back.
How much did you spend on Eti Keta, because I learned you had to forgo a car to do the movie?
We spent more than N20million on Eti Keta. I think the film is more valuable to me than buying a car, because I believe the film will go a long way.
What did you do with N20million?
It was even more than that. It was definitely close to twenty-six or twenty-seven million naira. The whites spend more than one hundred million dollars making a film. Do you know the equivalent of that in Nigerian currency? So, if we spend billions to pass a message across, I don't think it's a waste. The federal government gave N250million to the entertainment industry and I calculated it and it was about $2 million .
When you do a movie for one million and everybody is applauding you, I think you have done well. Let's not forget that entertainment is not just about movies, there is music, arts and other things. That money is not sufficient to shoot one good film that will be shown to the whole world. So, if the federal government is saying that it'll give 20 people N250 million and someone is thinking about shooting a movie for N29 million, how much do you think they'll need more? Government needs to re-strategize about dealing with the entertainment industry. The US government is collecting tax on every movie. So, we spent a lot on Eti Keta .
So, where did you get the money?
From companies and individuals. Sponsors who believe that dreams come true. I want the investors to recoup their money and that's why I'm using this medium to tell pirates, please o, let the investors make their money back so that they can help not only Saidi but other good producers out there. We have one million and one producers who need help.
If I make my money back, these investors will help other producers but if I fail to make my money back, they will avoid such deals. So, Nigerians, if you want people to help, I'm not talking for Saidi alone, I'm talking on behalf of everyone, please let me realize my money on Eti Keta so that other investors can realize their money and help others.
So you have a lot of supporters?
Yes, we have supporters like Lipton, Promasidore, Rasolouse, Asiwaju Coutour and lots of others. They all believe in my dream and we are still expecting more from adverts, because the more we get the more we spend and the better the movie becomes.
Is it true that a third party is trying to cause problems between you and your girl, Funke Adesiyan?
(Laughs) No, not at all. Not as it was reported.
But people said you guys dated even before the story came out?
Yes, we are still together and we are happy. I don't know how the story came out. We are together and happy.
But some women are scared that you abuse women.That you beat women?
Let me tell you something about life. A musician once said, when you're doing something good, some people will say you're doing the opposite. It's your conduct that will lead you to success. I'm happy and enjoying my life while some people are mad at themselves. That's what we call Eti Keta. If you do something and people are abusing you, they don't know your inner thought. I love Eti Keta.
Some people said the interview Funke granted is a publicity stunt, how true?
I'll say yes, because when she answered the third party, she was only joking and when she saw it, she was like, what the hell is this? I know the newspaper that published it is credible, because before they publish a story it takes process.
They have credibility, they have standard, they are world-class. So, you see, mind what you tell the third party , because even when you are joking, they'll think you are serious. Even if a couple has a problem, is the media the first place to go ? That's Eti Keta. So, you should also learn from this. Come to think of it , Stingomania is our manager and they're one of the best in this country. My company on the other hand is powerful. They cannot watch such thing happen and fold their hands.
So, you never beat her?
No, we are both happy. I can beat with money or with car when success comes. Even the banker and I still spoke recently. We are all happy guys.
Do you plan to marry her?
You see! That's Eti Keta. Go and watch Third Party and you'll know what to say and when to say it. She was fined N500,000 which will go to charity for the story and she's even willing to pay more. It's a thing that should be kept between two lovers.
Is it true you want to leave Stingomania?
Haha, that's another Eti Keta again! If Stingomania dashes me N200million when I'm done spending the money, I will re-appear? Call my boss, Mr. Ope Banwo. He'll tell you what's up. He's a lawyer and I like the way he talks.I am sure he's going to black it out.
What's up with you and 2uch?
I have moved forward o. Can't you see the effect of the third party? When God is behind you, nothing can stand against you. My Father said in Matthew, that 'ask and it shall be given unto you…' I have asked Him, saying, Father Lord, I have worked, can you make me greater? And he gave me Eti Keta. So, I'm happy. People still applaud me for the movies I have done in the past. The first three cast in Africa, the first two cast in Africa. If I see him, I would greet him and we go our ways. The copyright company should do the right thing.
Can you work with him?
If he brings good money, why not? Mio ran yan nse (I no send you). We are talking of money and creativity but we should be honest with each other. After that, we can go. I have a manager and I think every artist should get a manager so that we don't do deals directly with each other. Then we won't quarrel and it'll save us a lot of scandalous stories.