THE FIFTH WOLE SOYINKA AWARD FOR INVESTIGATIVE REPORTING, 2010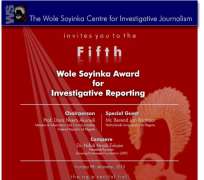 The award presentation ceremony of the Fifth Wole Soyinka Award for Investigative Reporting holds on Thursday 9 December 2010 at the AGIP Recital Hall of the MUSON Centre by 5pm.
This year, the event, which will be chaired by the Minister for Information, Professor Dora Akunyili, plans to reward works of seven Nigerian journalists in print, broadcast (Radio and TV), photojournalism, online journalism and climate change reporting and, for the first time, in the Local Government category.
The award win will include a cash prize, a lap-top, one-year internet access and an all expense paid international exposure opportunity. Two runner-ups in each of the categories with winners will also receive certificates of commendation.
Apart from the merit awards, there would be two honorary awards; Lifetime Award for Journalistic Excellence and Anti-Corruption Defender Award and six service awards; for five-year serving judges and support organisations. The Lifetime Award for Journalistic Excellence will be given to Dr. Doyin Abiola and the Anti-Corruption Defender Award which is done in collaboration with other civil society organisations, will be presented posthumously to Chief Gani Fawehinmi and received on behalf of his family by his wife Mrs. Ganiyat Fawehinmi.
Guests expected at the event include: Mr. Berend Jan Ronhaar, the Netherlands Ambassador to Nigeria; Mr. Bob Dewar, British High Commissioner to Nigeria; Ms. Linda Nwoke, the BBC World Service Trust Country Director; Professor Yemi Osinbajo (SAN) and Justice Bunmi Oyewole to mention but a few
The award programme day is significant as it is the world anti-corruption day and it is supported with funding from the Royal Netherlands Embassy, the Lagos State Ministry of Environment and in-kind support from the British Embassy, Z-mirage light and sound, cocktail café, Marthas Décor and a number of media houses.
The Wole Soyinka Award for Investigative Reporting which was first held in October, 2005 to encourage the development of an investigative tradition in the Nigerian media through rigorous scrutiny of human rights violations, regulatory failures and corruption in the public and corporate department of the nation's life has so far rewarded nineteen (19) journalists who are called 'Soyinka Laureates'.
A judges' board comprising nine top local and international professionals with impeccable character and integrity are in the process of selecting winners for the award.
* * *

The WOLE SOYINKA CENTRE FOR INVESTIGATIVE JOURNALISM (WSCIJ) is a registered not-for-profit, non-governmental organisation with social justice programmes aimed at exposing corruption, regulatory failures and human rights abuses with the tool of investigative journalism. Initially known as the Wole Soyinka Investigative Reporting Award (WSIRA), the change in name became necessary in 2008 to reflect the intentions of the coordinators to embrace a more robust line of activities that have greater capacity for engendering the right values of investigative journalism in the Nigerian media. The centre is named after Professor Wole Soyinka in recognition of his life-long work in support of the freedom of expression, freedom to hold opinion, and freedom to impart them without fear or favour and without hindrance or interference.