YAK, OSAZE GEAR TO TREAD TACKLES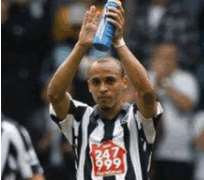 Osaze Odemwingie
Super Eagles' duo of Osaze Odemwingie and Yakubu Aiyegbeni will go for each other's jugular when West Bromwich Albion clashes with Everton at Goodison Park this evening.
Osaze, who has played pivotal role in the Baggies' newfound form, was unable to replicate his past performances when the team went down 3-0 to Stoke City at the Hawthorn. But he may have resolved to make the necessary amends to ensure that his team resumes its gradual climb up the table.
The Baggies are placed 16th on the table with 16 points; a possible away victory, their second this season after two defeats in a row, will hand them clear chance of going as high as five notches on the ladder.
Manager Roberto Di Matteo will be buoyed by his team's recent defeat of Arsenal to fire his wards to go for the kill, mindful that victory is for the best-prepared team.
It is, however, their game against Everton, whose attempts at improving on its performances this season is at best a struggle. Everton got a good reward for attempting to raise its worth with a 2-2 draw at Sunderland last weekend. For a team that has won only twice at home, and has not sing the victor's song in four straight games, there is a strong suspicion that it might do everything to niche this one to please its home crowd.
Yakubu has only scored once this season. In recent times, he has not been having enough playing time coming in the past two games as replacement to Mikel Areteta. If luck is on his side, he could be the one to wrap up the match to leave Goodison Park faithful celebrating into the evening.
In his absence, expect lots of fireworks from Tim Cahil, the player who has become every inch phenomenal in the team's line up. The Australian's seven goals after 14 matches is an awesome performance by a midfielder, and that is a clear indication of what he can do if the Baggies fail to take him seriously in today's game.