INDIA : COPING WITH THE AFTERMATH OF A MASSIVE SCAM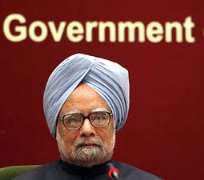 Posted by The Himalayan Voice:
[The opposition Bharatiya Janata Party (BJP) scents blood. It has blocked parliament to force a public inquiry into the 2G affair. More than 20 years ago a similar investigation seemed to show that a Congress government was bribed by Bofors, a Swedish artillery supplier. They lost the next general election.]
MS. SONIA GANDHI, the head of the ruling Congress party, laments that India's "moral universe" is shrinking, as newspapers fill with ever more galling cases of political corruption. Manmohan Singh, the prime minister, says he feels like a schoolboy facing a series of agonising tests as scandals break one after another. Ratan Tata, head of the Tata Group, hints that the scourge is hurting the economy; officials' expectations of bribes, he said, put him off launching a domestic airline.
It is tempting to hope this "season of scams" will concentrate the minds of India's leaders. This month Congress sacked two prominent officials over graft. Suresh Kalmadi, who oversaw the Commonwealth games in Delhi in October, was sent running on November 9th as evidence of dubious contracts emerged. On the same day the party also toppled Ashok Chavan, chief minister of Maharashtra state, over a housing scam. His relatives and associates had taken flats in a new tower block that was supposedly set aside for veterans and war widows.
The fallout from the dodgy sale of 2G mobile-telephone licences nearly three years ago will be much worse. On November 14th Mr Singh at last forced a coalition ally, Andimuthu Raja, to quit as telecoms minister. Mr Raja had refused to auction the licences, preferring to dish them out in an underhand and chaotic way, awarding 120 in a single day. Favoured companies bought permits for a song. In the process, the state may have forfeited revenues worth a staggering 176,000 "crore" rupees (a crore is 10m: almost $40 billion in all), to judge by their resale value and by the sums raised by the auction of 3G airwaves.
Even Mr Singh, who is generally seen as a saintly technocrat floating above the fray, has been dragged down into the muck. Most unusually, the Supreme Court chided him last week. His sin was to act too slowly against his coalition partner. Congress, lacking a majority, relies on Mr Raja's party, the DMK, for parliamentary support.
The opposition Bharatiya Janata Party (BJP) scents blood. It has blocked parliament to force a public inquiry into the 2G affair. More than 20 years ago a similar investigation seemed to show that a Congress government was bribed by Bofors, a Swedish artillery supplier. They lost the next general election.
But Congress retorts that the BJP's record is no cleaner. It has been trying to show its resolve against corruption by pushing for the resignation of one of its own, B.S. Yeddyurappa, the chief minister of Karnataka state. He stands accused of giving away public land and taking money from a mining firm. Yet on November 24th he defied the BJP's national leaders and stayed on, casting doubt on the BJP's credibility in any fight against corruption.
The ex-boss of an anti-graft commission, Pratyush Sinha, threw his hands up in despair in September, saying his job was thankless and lamenting that increasingly materialistic Indians were becoming "utterly corrupt". His complaints were writ large this month in a report by an American think-tank, Global Financial Integrity, which suggested that since 1948 India had lost over $460 billion in illicit financial flows, much of it through corruption.
The report concluded that the problem would worsen as the economy grows and incomes become more unequal. The moral universe may be getting smaller but, despite the shifting of a few high-profile figures, it seems that India is ready to do little more than shrug.
@ The Economist
IN INDIA ON METRO, HEROINES OF FEMALE WORKFORCE
[The enforcers have become unlikely heroines of India's female workforce, one of the largest in the world thanks in part to the country's booming technology and corporate sectors. The enforcers are helping women here travel to work safely and in comfort by making sure the first coach of every train is reserved for them.]
By Emily Wax
They are called the "enforcers," armies of female officers in starched blue uniforms who kick men out of metro cars reserved for women.
Chubby and wearing oversize glasses, Hema Rani, 44, spotted a group of men pushing onto a women-only car. She plowed through the rush-hour crowd, her finger punching the air as she yelled, "No men. Go! Women-only here."
She flashed a crooked grin when the offending men - red-eyed government workers, shaggy-haired college students and a mortified-looking Buddhist monk twirling prayer beads - squeezed into an adjacent car.
"I'm the mother of two sons, and they may not like it, but they have to listen to me, too," she said, as the female riders roared with laughter. Rani said she fines 20 to 25 men each day on the capital's new metro system.
The enforcers have become unlikely heroines of India's female workforce, one of the largest in the world thanks in part to the country's booming technology and corporate sectors. The enforcers are helping women here travel to work safely and in comfort by making sure the first coach of every train is reserved for them.
New Delhi's metro has received complaints from "women from all walks of life who said the coaches were too overcrowded and men were shoving them on their ride to work," said Anuj Dayal, a spokesman for the system, which transports 1.6 million riders a day.
In response, officials decided to test the women-only cars, similar to those in Mumbai, the country's financial capital. Several other countries, including Japan, also have subway cars reserved for women.
Officials recruited more than 100 enforcers, whose job interviews included questions about how they would tell men that they were breaking the law. Many of the enforcers used to work as security officers on India's railways, others were housewives. Most come from middle-class or rural backgrounds.
Large pink stickers on the platform indicate the cars for "women only." Women can also ride in mixed cars. The arrangement has been so popular that more women-only cars might be added, Dayal said.
At first, there were no fines, but so many men were breaking the rules and stowing away in the women's car that the Delhi metro system announced fines of 200 rupees, or $4, per offense, a hefty penalty here, Dayal said.
Indian men are used to getting preferential treatment in the workplace and at home. In many families, sons are still prized over daughters, and rural women are far less educated than men.
Young urban women say they battle daily discrimination and harassment, including what is known in South Asia as "Eve teasing," or leering or grabbing. Although many women hold high-ranking political positions, Indian women still struggle for dignity in daily life.
More than a third of Indian women encounter bias in the workplace, where entrenched "old boys" networks form almost insurmountable barriers, according to a recent study about women in growing economies by the New York-based Center for Work-Life Policy.
Prime Minister Manmohan Singh's government has introduced legislation aimed at helping women, including measures to combat sexual harassment and to allow women to work in more fields, such as bartending. The legislation targets the growing private sector and unorganized construction industry, which employs large numbers of women, who are building the new India - bricks balanced atop their heads and toddlers tugging at their saris.
As women rode the New Delhi metro on a recent day, they smiled as the enforcers insisted on respect.
"Oh, it's fun to see the men get scolded. It's the best part of my day," said Sangetta Pareek, 35, with a laugh, while traveling to her job at a cosmetics firm. "They crib and cry about it. It's funny."
Mennu Malik, 42, a fashion designer, rode the train with her 12-year-old son, Arjun. (Male children are allowed to travel with their mothers.) She said she frequently takes him on the women's car and points out the enforcers.
"Men are always trying to be physical with you, pushing and shoving you a lot," Malik said. "But the enforcers mean we have equal dignity. What has made them heroes is that most of our laws are on the books but are never enforced. The women's-only car is actually one thing that is implemented."
The passengers laughed as Rani lifted her arm to playfully swat a male police officer who was trying to steal a ride in the women's car.
"It's okay, sister," the towering officer said, moving back. "I will obey you."
@ The Washington Post
|
Article source