Politicians Have Started Stealing Ahead Of 2011 Elections--EFCC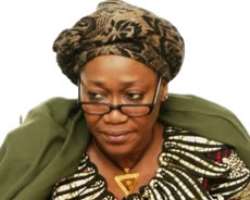 By Sanni Gombe, Abuja
Economic and Financial Crimes Commission (EFCC) Chairman Farida Waziri has said the commission will be tighten its nuts on politicians as the build up to the 2011 elections
Speaking with newsmen yesterday in Abuja to mark her one year in office, she stated that she had been told that 2010 would be crucial because campaigns for the 2011 elections would start and some politicians would want to steal funds to prosecute the elections.
But she said the commission was ready for the politicians ahead of the poll. She also said she was ready for whatever consequences that might come with the job.
"I have been told next year will be crucial and tough for EFCC as politicians will be campaigning for 2011 elections and some of them will want to amass wealth for that. We are ready and prepared for them," she said.
She said that already that petitions were already with the Commission on some politicians regarding graft in respect to plans for the next general elections.
|
Article source