PEDRO OBASEKI'S AZAGIDI GOES TO EJIGBO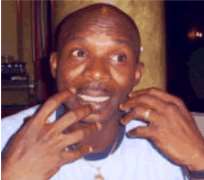 •Obaseki
Whao! This is definitely cheering news to all the lovers of stage productions, especially those residing in the suburbs of Lagos State. Black Pride Ensemble, the performing arm of Kaiver-Link Communications Limited is bringing on stage 'Azagidi- when gods die,' a Bini historical play written by Dr. Don Pedro Agbonifo- Obaseki.
Directed by Mrs. Sari Akhuetie, the play, according to the organizers will hold variously at Obikon Event Centre, Ailegun Road and Romeo & Juliet Eateries, Egbe Road by NNPC, both in Isolo-Ejigbo area of Lagos.
While that of Obikon will hold on Saturday, November 27 and Sunday 28, respectively; that of Romeo and Juliet will hold on Friday, December 3, and Sunday 5, respectively. Both shows will be preceded by a Red Carpet reception from 4.pm with other short drama sketches, music and comedy presentations.
Speaking further on the production Mrs. Akhuetie explained that her organization's resolve to engage in stage productions was in line with 'our vision of promoting arts and culture in Nigeria through live theatre, and providing quality entertainment with the aim of instilling lost moral and values especially among our youths.'
The choice of Azagidi according to her was due to the rich cultural exposition and the themes of greed, power, revenge and love that it treated dispassionately. 'Azagidi the undefeated great warrior embarked on a journey to the marine world in search of new challenges and eventually falls in love with the river goddess Ighaghon.
Azagidi's quest to become King made him to abandon Igbaghon whom he has professed love for and who had bore him two sons. Azagidi's actions lead to dire consequences.' Obaseki, the author of Azagidi, is a revered name in Nollywood and has written and directed several Nollywood movies.