SENATE LEADERSHIP SAVES JONATHAN'S LOAN REQUEST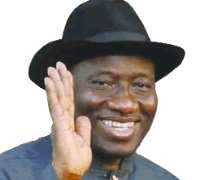 But for the deft move and intervention of the President of the Senate, Senator David Mark, the request by President Goodluck Jonathan for the external borrowing of outstanding $3.702 billion plan of the Federal Government would have been thrown out.
The intervention of Senator Mark followed a heated debate on the pros and cons on the need for the borrowing plan of the federal and state governments, particularly at this critical time in the life of the nation.
The Senate president who read the mood of the senators with regards to the direction of their debate refused to bow to pressure to put it to voice vote. Instead, he referred it to the Senate Committees on Finance and National Planning for further legislative action.
President Jonathan had in a letter to the President of the Senate dated November 4, 2010 urged the National Assembly to approve his outstanding borrowing plan for 2010.
The National Assembly had in April granted a partial approval of $915 out of the $4.31 billion as part of the 2010 borrowing plan that was forwarded to it alongside 2010 budget proposal.
President Jonathan having received the $915 million approved and the removal of two pipeline projects, is now asking for the approval of the outstanding $3.702 billion, which is expected to benefit 16 States, the Federal Capital Territory and the Federal Government. The loans and credits, according to its terms, would be secured on concessionary agreement with repayment periods of 25 to 40 years and moratorium of seven to 10 years.
The loan is to be implemented on rail construction, building of markets, urban water and sanitation projects, equipping of hospitals, and rural access and mobility projects. In his contribution to the debate on the loan, Senator Lee Maeba (PDP Rivers) argued that the loans particularly those requested by the states were with vague intentions and thus were not necessary especially now that the 2011 was near.
Also contributing, Senator Ahmed Lawan (ANPP Yobe) raised objection to the Senate granting such a loan saying that the presidential and states' requests do not support the borrowing plan as they do not even have the report on the utilization of the initial $915 million that was approved and acquired in April. Speaking in the same vein, Senator Uche Chukwumerije (PDP Abia State) noted that the timing of the borrowing that coincided with the end of tenures and election season was wrong.
In spite of the argument against the granting of the loan, the leadership of the Senate led by the Senate President Senator Mark and his Deputy Senator Ike Ekweremadu appealed to the Senators to have another look at the request. Senator Mark in defending the presidential request for the loan said that it is practically impossible for any nation to develop its infrastructure based on it is internally generated funds.