2011: INEC UNCERTAIN ON ADAMAWA, KOGI, OTHER GUBER POLLS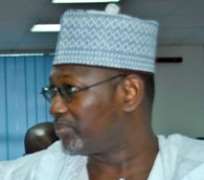 The Independent National Electoral Commission (INEC) said it is not certain whether or not governorship elections will hold in Kogi, Adamawa, Sokoto, Cross River and Bayelsa states on April 16 as scheduled in its election timetable.
The commission had earlier given notice of election in all the states where sitting governors won rerun elections after spending some time in office before being removed by court ruling.
But speaking to Daily Trust on the matter yesterday, a senior official of the commission said INEC is no longer certain on the matter as some affected governors have taken the issue to court and are seeking judicial pronouncements. According to him, 'INEC cannot do anything on the matter for now because some parties have gone to court to seek pronouncement and we are bound to stay execution as a law abiding commission until the court makes pronouncement.'
'You know when a matter is in court there is little anyone can do until court decides. It is a trite law to stay execution until a pronouncement is given. We cannot even make comments on the matter because if we do, it will be prejudicial and that will amount to contempt of court.'
Asked if INEC will conduct election in the affected states by April if the court fails to deliver its ruling, the official said: 'We hope the court will give a pronouncement before that time because we have to abide by the Rule of Law.'
Governors Ibrahim Idris of Kogi, Murtala Nyako of Adamawa, Timipre Sylva of Bayelsa, Liyel Imoke of Cross River and Aliyu Magatakarda Wamakko of Sokoto won rerun elections as they were sacked by the courts after spending some time in office.
The 1999 Constitution provides that in such situation the governors are adjudged to have fresh four year term beginning from the date they took oath of office without taking into account the period they had spent in office.
But the National Assembly introduced a clause during the first Constitution alteration exercise that provides that the period spent in office by a sitting governor who wins a rerun election will count.
The five governors were initially to remain in office beyond May 29, 2011 until INEC declared that in line with the provision of the amended 1999 Constitution it will conduct governorship elections in the states as their tenure expires on May 29, 2011.
Kogi State Governor Idris has since gone to court demanding INEC be restrained from conducting election for his seat until 2012 as he was re-elected in 2008 after his election was annulled by the Court of Appeal.
There is also controversy over which version of the Constitution is presently effective after a court declared as invalid the amended version of the constitution until it is signed by the President.