Reps Probe Abuse Of Scanners At MMIA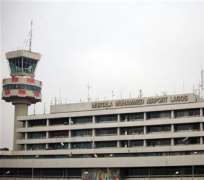 ABUJA, Nov 23, (THEWILL) - The House of Representatives today directed its Committee on Aviation to investigate alleged misuse of full body scanners at the Murtala Muhammed International Airport, Ikeja, Lagos and report back in two weeks.
It also ordered the Federal Ministry of Aviation to install separate full body scanners for male and female air passengers using the airports.
The decision was taken at today's plenary following the adoption of a motion by, Hon. Umar Ibrahim Kurfi (PDP, Katsina) who intimated the House on the alleged abuse of the full body scanners by male personnel drafted to man the systems.
Kurfi told the House that there have been reports of male staff allegedly finding pleasure looking at images of unsuspecting passengers who pass through the scanners for hours, especially the females.
The lawmaker lamented alleged instances where the operators would be found "giggling" at the images they see on the monitors.
Although Kurfi appreciated the security importance of the full body scanners, he noted that the alleged abuse could be checked by providing separate scanners for male and female passenger, also to be manned and operated by personnel of same gender with passengers.
Hon. Friday Itulah (PDP, Edo) also supported the motion saying that it was wrong for airport personnel to be deriving fun from such security measure arguing that full body scanners should be used only as the last resort, especially on when there was cause for high level of suspicion.
Also, supporting the motion, Hon. Bala Ibn Na'Allah (PDP, Kebbi) said attention should be placed on the profiling of air passengers, and the scanners deployed only when there is the need to do so, based on reasonable suspicion. His position was supported by Isah Idris Umar.