FG, Siemens In N7B Deal To Withdraw Charges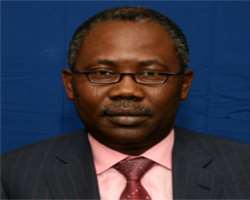 PHOTO: ATTORNEY GENERAL OF THE FEDERATION AND MINISTER OF JUSTICE, MR MOHAMMED ADOKE, SAN.
ABUJA, Nov 22, (THEWILL) - The Federal Government Monday announced it has reached a deal to withdraw bribery charges against Siemens Corporation.
Attorney General of the Federation and Minister of Justice, Mohammed Adoke, in a chat with newsmen said that government's decision to discontinue the case against Siemens was as a result of the firm's expression of regret and its readiness to be of good behavior as far as future business dealings in Nigeria are concerned.
Consequently Siemens has agreed to pay a fine of N7 billion, three times the amount of bribes it was accused of dolling out, and pledged to cooperate with a committee made up of two nominees of the federal government, to watch its activities.
"The heavy fines that have been imposed on Siemens, apart from the deterrence effect, will go a long way in financing infrastructural delivery in the country," Adoke said.
Adoke further said: "I appreciate the yearnings of some Nigerians for jail sentences to be imposed on those who contribute to the economic adversity of the country by way of corrupt practices, but the restitution that has been done in the case of Siemens is important in the overall process of redeeming the image of the country." The other accused persons who still have cases to answer are former Executive Director of the Power Holding Company of Nigeria (PHCN), Maigada Shuaibu; former Permanent Secretary of the Ministry of Power and Steel, Mahmood Sadiq Mohammed; former Nigeria Telecommunications (NITEL) General Manager of Finance, Emmanuel Chukwuemeka Ossai; and former MTEL Managing Director, Edwin Moore Momife.