NAFDAC IMPOUNDS EXPIRED MILK IMPORTED BY LAGOS FIRM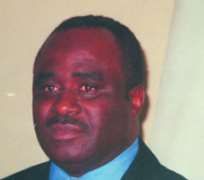 Dr. Paul Orhii, Director-General NAFDAC
The National Agency for Food and Drug Administration and Control (NAFDAC) has uncovered a large consignment of expired milk, which was relabeled for distribution.
The consignment in seven 40ft containers valued at about N20 million purportedly manufactured in New Zealand /Holland but shipped from Shanghai in China, landed at the Tincan Island Ports. Lagos last month.
On physical examination, the labels on the bags were found to be superimposed on the actual Best before Date of 14th February, 2010 in a criminal manner. The actual Best Before date was 14th February, 2010, but now superimposed with a stick-on label to read manufactured two years from date of actual manufacture of 14th February 2009.
The Lagos-based which imported the milk, has been shut while investigations are ongoing. The company and her officials will be charged to court as soon as investigations are concluded.
Commenting on development, Dr. Paul Orhii, Director-General NAFDAC, reiterated that the agency is alive to her responsibilities and would not tolerate deliberate, unethical and criminal importation of foods and drugs items.
'NAFDAC would like to use this medium to assure all Nigerians that our officers in various seaports in Nigeria and indeed all land borders and airports are alert at all times to ensure that only genuine, high quality and safe NAFDAC regulated products are imported into the country.
Meanwhile, the USAID has commended NAFDAC for making significant progress towards becoming internationally accredited to administer most important testing processes and procedures on selected Nigerian agricultural items, an essential step towards ensuring food safety and security for the nation. By obtaining the international ISO 17025 standard, NAFDAC would be on equal footing with many laboratories in the developed world, a feat achieved only by four others countries in the African continent.
To achieve the ISO 17025 accreditation, NAFDAC completed a detailed analysis of laboratory 'sample cycle time' performance; a measurement of how long it takes a laboratory to test a given product to determine if it meets the relevant safety and quality criteria.
The agency also carried its product monitoring surveillance to the Lagos International Trade Fair.
Part of its plan to put up active participation at the fair is adequately to put up the Agency's regulatory activities at the disposal of both organisers, manufacturers, markets, importers, exporters of foods, drugs and other regulated products.
Mrs. Christiana Obiazikwor, Public Relations Officer, NAFDAC, Lagos office, stated that, apart from creating awareness that would enhance public understanding of registration process needed for regulated products, the Agency's participation will also ensure that no unregistered product was exhibited at this year's fair.
'The Agency did this by deploying its newly introduced Truscan equipment, SMS messaging to instantly determine the status of regulated products being exhibited at the Lagos fair.
'Our activities therefore impacted on the general fair activities particularly the members of the public who accessed the various exhibition stands to shop for their families'.
In addition the Agency's participation created avenue for value exchange in terms of feedback and interaction with manufacturers and marketers of regulated products.
'The agency therefore, used the opportunity provided by the Lagos Trade Fair to further advance course of fighting fake regulated products and entrenching the culture of product wholesomeness in the country,' she said.