ATIKU AND BURDEN OF CONSENSUS CANDIDACY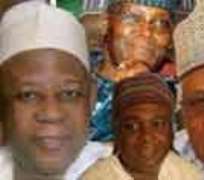 FORMER Vice President Alhaji Atiku Abubakar 64, Turakin Adamawa who was announced as 'consensus' candidate to run against President Goodluck Jonathan, was a founding member of the Peoples Democratic Party (PDP). In 2006 he decamped to the Action Congress (AC), where he was the presidential candidate and ran against the late President Umaru Musa Yar'Adua.
A power broker in the PDP and the North in general, in President Olusegun Obasanjo's first term, nobody got anything in the North without going through Atiku, except Mallam Adamu Ciroma and Lt.-Gen. T.Y Danjuma who were appointed ministers by Obasanjo.
However, his defection to AC is believed to have eroded his influence in the PDP while his return to the PDP is said to depict him as one who is desperate to rule.
In the process, he does not have the same grip on his basic constituency, Adamawa. The Yar'Adua PDM structure that launched him into relevance is now in disarray and will take some time to be revived. However against all odds, he got his waiver from the PDP despite the brick walls in Adamawa State.
Atiku's choice was based on his democratic credentials, his experience in civilian administration and his perceived acceptability among the civilian populace across the country. He was regarded as a close associate of late former Chief of Staff, Supreme Headquarters, General Shehu Musa Yar'Adua with whom he formed the People's Democratic Movement (PDM), an influential pressure group in the 1990s. Atiku contested for the Social Democratic Party (SDP), presidential ticket with late M.K.O Abiola and Ambassador Babagana Kingibe in 1993. To avoid a possible deadlock at the primaries, which could have provided the Babangida regime yet another excuse to postpone the handover date, Atiku stepped down for Abiola. He also stepped down for Kingibe to emerge as Vice Presidential candidate despite Abiola's earlier assurance to his mentor, Shehu Yar'Adua.
In 1999, Atiku contested and won the Adamawa governorship election on the platform of PDP, but Obasanjo chose him as his running mate to solidify his chances at the presidential poll. When Obasanjo allegedly fell apart with some state governors like Orji Uzor Kalu (Abia) and James Ibori (Delta) in 2003, Atiku was persuaded to dump Obasanjo and vie for that year's presidential ticket, but he declined.
Atiku was considered to have been the brain behind the frustration of Obasanjo third term agenda when he mobilised other politicians, media and human rights groups to ensure that he did not succeed.
Obasanjo allegedly vowed that Atiku would not succeed him as president in 2007 presidential election, which Atiku contested as then AC flag bearer. Another factor that worked in favor of Atiku was his endorsement by the traditional rulers in the North.
In the 14 northern states the panelist visited and interacted with personalities like Sultan of Sokoto, Alhaji Sa'aad Abubakar, Emir of Kano, Alhaji Ado Bayero, Alhaji Maitama Sule and other influential Northerners saw no other candidates better for the job than Atiku. Prominent retired Generals from the North, including former Head of State, Yakubu Gowon, Danjuma and former Minister of Defense, Gen. Domkat Bali (rtd.) were anonymous in the choice of Atiku.
It was further gathered that most of those who purportedly interacted with the NPLF panel, allegedly preferred someone without military background, who can efficiently advance the nation's democracy and steer the ship of state with the inhibition of self-deluding pride and arrogance. They also prefer a candidate who can interact freely with politicians across the country and avoid the temptation to muscle the National Assembly to deny the people of democracy's dividend.
The Ciroma panel was said to have also considered the need to balance the contentious issue of representation in the residual units in the Northern region.
Atiku attended Jada Primary School, between 1954 and 1960. He was at the Adamawa Provisional School, Yola between 1961 and 1965 before he went for the Advance Level studies in Economics, British Economic History, Government and Hausa Language. He was also at the School of Hygiene Kano between 1966 and 1967 and graduated with Royal Society of Health Diploma, Ahmadu Bello University, Zaria, 1967 and subsequently bagged a Diploma in Law in 1969.
He joined the Customs and Excise Department in 1969. He served in Seme, Kano, Maiduguri, Kaduna, Ibadan and Lagos. He rose to the rank of Deputy Director of Customs. He attended courses in Leadership Management, Drug Enforcement and Control in Finland, Egypt and United States of America. He later went into private business after his retirement, with interests in oil Services, agriculture, food and beverages, print media, insurance, pharmaceuticals, and education.
Ibrahim Babangida
Babangida, Nigeria's military president between August 27, 1985 and August 27, 1993 joined the race for the 2011 presidential race. It is his second time to aspire to be president. In 2003, he tried to be president but backed out because according to him the former president Olusegun Obasanjo was still in the race.  His annulment of the June 12 presidential election, which became the defining issue for his eight-year administration, remained an albatross for him. But he is believed to have a wide network of contacts, both local and international, coupled with his experience as a former military president.
Aliyu Gusau
In retirement, he was yet fished out to play the stabilising role expected of a National Security Adviser. He is respected by the military establishment and is believed to have deployed his knowledge and skills in stabilising the Jonathan administration as soon as he was appointed in March.   A taciturn General maybe because of his special military training, Gusau was seen as a potential presidential candidate in 2011. He was the main contender alongside Yar'Adua under in 2007 elections, coming second in the primaries. He remains a powerful kingmaker in the PDP. He also left the same post under President Goodluck Jonathan to be part of the presidential race again.   Most of his public life has been spent in secrecy of intelligent services. In 1993, he became National Security Adviser and was promoted as Army chief when Babangida passed control to the short-lived civilian government of the Nigerian Third Republic in August 1993 as Interim National Government.
In May 1999, Obasanjo recalled him as NSA and he played a significant role in ensuring Obasanjo's victory in the 1999 presidential election. Not seen as a core politician and low on political capital, his emergence is seen as an ego trip that would hardly translate to votes.
Bukola Saraki
Dr. Abubakar Bukola Saraki, the Kwara State Governor since May 29, 2003, was Chairman of the Nigerian Governors Forum (NGF), an association he turned into a very influential bloc. The governors had played major roles in 2003 and 2007 in deciding who eventually emerged the president. The entrance of Saraki was seen as breath of fresh air because of his age, the emergence of a new generation of leaders. However, the youngest of the aspirants, the fact that he comes from the North Central and from a minority group in the North became a huge minus for him. He was actually seen as from the South West because of the sound of his name. Saraki acquired wide influence, as one of the power brokers in the late Umaru Musa Yar'Adua administration.