BLACK-I: NIGERIAN ARTISTES ABROAD RETURNING IN DROVES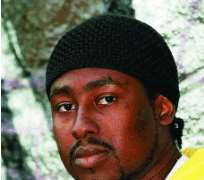 Black-I
With the explosion in the music industry, more talented Nigerian musicians abroad are returning to ply their trade, and evidence abound about their roaring success in the exodus rave.
Some of them who just visited have decided to stay put after the acceptance of their music. Among the lot is Germany-based musician, producer and technology expert, Francis Umeji popularly called, Black-I.
Umeji, who travelled to Germany years ago, to join his cousin could not concentrate on anything else except music. He came home recently to promote his singles, Prayer for Nigeria, Kolo Party currently enjoying massive airplay on air.
The Hamburg-based musician also called Home Boy, had a wonderful outing when the Nigerian Community in Hamburg recently celebrated the country's 50 years of independence.
The handsome DJ from Ideato North Local Government of Imo State, who recently breezed into the country, spoke to Blockbuster about his career.
'Music went into me. All my life, music has been haunting me. That is why in the classroom, when you are asked what you want to become in life, I found it difficult to answer because then, musicians were not valued but now the story is different. If you are a child and it is your dream, you don't say it then, but now you can say it loud and clear. I always wanted to be a musician but I didn't know the direction or how it is going to be.
'I started in the school, rapping and singing other people's songs for fun in the classroom and classmates used to beat on the table for me. I was encouraged and wrote my first song in 1991. I wrote it because I was sad. Before I knew it, I wrote one stanza and that was how it started. I knew I could write, so I continued from there.
Professionally, I started in 1997 in Germany. I actually went to join my cousin who was staying in Germany to study the language but music kept on pushing me on. I ended up becoming a Disc Jockey in clubs.
I have some tracks that I featured German musicians and the ones I sang in their language. I am working on my Nigerian concept and with time, I will introduce new things if they let me.'
He recalled that he is around to promote his music and 'I am currently working on my album. I produce myself too. I am an ambassador in a foreign land. I have tracks like Prayer for Nigeria, Kolo Party and a futuristic song like, Gbadun You. Kolo Party is currently on air on Nigerian radio and television stations as well as on youtube.'
They say wherever you lay your head for a period of time, that is your home. If I am earning my living there, it is okay. If I have the love and support here, definitely that is my dream. It is the biggest dream I ever have.
I also work in Glaxcosmithkline production unit. In Germany, you must know about technology.
Every club has a programme. If they have a house programme like my colleagues, I have white colleagues too, then I got a job as animator. I come there and make emcee.
I play Nigeria's hip-hop there. They understand English especially when they want to enjoy themselves. They can sing all the English songs you can ever think of.
It is our job to promote Nigerian music and it is working. I used the last World Cup event as a strategy to host end of World Cup party. After the football tournament, they became more crazy about Africans. I thought it was an opportunity to introduce the African music. In Hamburg where I live, there are three clubs, which play only African music. People have ringing tones like the music of P-Square and others. I was in the streets one day when a white girl's phone rang. It was P-Square's Do Me I Do You. She had that as her ring tone. I think if there is an opportunity, they are definitely going to buy it. Germany is a good music market but we first have to break in. Americans sell their music in Germany. Any international musician that is promoting his song comes first to Germany.
I cannot talk about life for blacks as a whole. Everything is dependent of where you are staying, what you are doing. It is just like in Nigeria, if you are unlucky, you can bump into criminals and they rob you, it is like that there.
In every part of the world, there is racism. But it is not the way people think about it abroad. From my experience, I think in most cases in other foreign countries, there is more racism because Germans have learnt from the past. Their government is really fighting against it. They are serious about it.
Every of my song has its potential. I don't even know what I am going to sing next. My songs are like colours, if it is sad, it is sad and you will hear it. If I am trying to pass a message, you would hear it from the sound and song. If I want to party, you would also hear it. I always try to define what I want to project through my music like a work of art, so that I would be understood.
I sing a fusion of hip-hop and RnB. From the experience I have, being an African and knowing full well how the drums are sounding in the villages and living in the last end of the white man's world, at times, I'm the only black man around. It is two different things that I experience musically, so I think somehow, I first have to work on it to be able to project it back from my own perspective.
I want to clean up your show calendar. I would like to contribute my own quota in the Nigerian music business as a producer, as a rookie in video production. I am in an organisation for helping the needy. I love it.