22 PERCENT OF NIGERIANS SMOKE MARIJUANA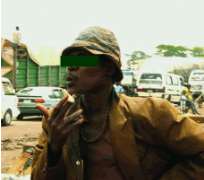 HIGH: Smoker on his art
It might shock you, but it is a fact beyond dispute that Nigeria is the world's eighth highest consumer of Indian Hemp (marijuana, cannabis sativa, gunja, bush, igbo, we-we, gbanaa, hashish etc.)
On the world cannabis consumption chart Nigeria trails behind only Ghana in Africa and behind Papua New Guinea, which is the world's highest consumer.
But more daring on this not-too-noble act is the fact that the nation's drug control agency, NDLEA arrested 2,794,733 persons between 1990 and 2009. Of this number males make up over 88 percent. This cannabis arrest frequency was against 2,827,862 cases involving all classes of hard drugs - cocaine, heroin and other unclassified ones.
From the NDLEA records, about 80 percent of substances abuses, trade and use in Nigeria is cannabis. For a reason even the NDLEA and data analysis could not fathom, 2008 was the year of bumper drug abuse, use and trade with arrests in connection with cannabis totaling 335,534.
An annual report of the NDLEA noted that: 'The agency in 2009 arrested 7,042 suspected drug offenders, made up of 6,700 male and 342 female offenders. The total quantity of drugs seized stood at 11,910.24kg. Like in the previous years, cannabis maintained the lead of seizures. A total of 114,700.71kg of the illicit drug was seized.'
In further breakdown, the agency revealed that Katsina State had the highest case of convictions in drug offences with a total of 161 convicts. This was followed closely by Lagos and Kano that had 108 and 107 respectively. Edo State came top in the quantity of drug seizures by state breakdown with a haul of 32,609.299kg in 2009, but on number of persons arrested, Kano was the ultimate with 681 persons, all male. On geo-political zone breakdown, North West is the ultimate drug zone with 2144 males and 20 females arrested for drug, all coming to a total of 2164 or 33.66 percent of all arrests nationwide.
But Lagos had no rival in cocaine haul and trafficking with 188.424kg seized at the Murtala Muhammed International Airport and 138.7kg in Seme. Drug carriers were arrested 55 times aboard or about to board the KLM Royal Dutch Airline, making it the highest offender, just as USA had the highest number of deportations to Nigeria in relation to drug offences. There were 62 of such cases in the year under review.
From the NDLEA statistics, drug offences had galloped to an alarming level in ten years. In 1990 there were 13 drug prosecutions, which skyrocketed to 1720 incidents in 2008 and 1571 cases in 2009.
Why Indian Hemp?
In the world cannabis consumption chart, it is amazing to find that India is not one of the highest consumers of the weed. So the question is why is the name affiliated to India instead of Papua New Guinea, the highest consumer or Ghana, the third highest or Nigeria. That brings us to you to Nigerian Hemp or Ghanaian Hemp.
A historic fact on the web (www.drcnet.org) gave clue to what might be the answer to the puzzle. Between 1893 and 1894, the British government had set up a commission to give a report on marijuana in Bengal, India. Because cannabis sativa is basically a tropical plant, the historic possibility is that Britain didn't know it until they got to India and therefore attributed it to India. In past times, it was known both as hashish and cannabis. 'The commission was formed in response to questions raised in the British House of Commons concerning the effects of the production and consumption of hemp drugs in the British province of Bengal, India. Some regulatory taxes had been in place since the late 1700s, primarily to check immoderate consumption and to raise revenue, but consumption of the drug was not prohibited by law.'
However, 'Cannabis first became illegal in the UK, and most of the rest of the world, on September 28, 1928 when the 1925 Dangerous Drugs Act came into force.'
A fine history
It seems from historic materials, hashish has one of the most interesting histories among all plants. You can't beat the fact that the oldest codification of human rights - Magna Carta Anglae which came into effect in July 1215 was printed on a cannabis or hemp paper. That was not enough as the Guttenberg Bible, one of the oldest Bible prints, in 1456 was also printed on hemp paper. Don't forget also that in the colonies of America in the 1970s 'hemp was used as currency for bartering.'
Between 1271 and 1295 Marco Polo in his travels recorded that Hasan ibn al-Sabbah and his assassins used hashish. These assassins were recruits of his army that fought daring wars. In fact the name assassin is said to derive from the root hashishin for hashish because the assassins of al-Sabbah were notorious for smoking hashish.
But while hashish enjoyed prominence among many governments and rulers, it suffered a serious setback in 1378 when 'Oman Emir Soudoun Scheikhouni issued the first edict against the eating of hashish, to end the use of Indian hashish by destroying all such plants, and imprisoning all users (first removing their teeth) Interesting to note that after a few years consumption increased.'
But in those good old days of hemp or hashish, it was not known for the drug property but as a tensile and reliable fibre plant. This plant native to Asia also had reputation as drug and printing raw material. But today, hemp is mostly known for its inducing character and mostly abused in most countries including Nigeria where the consumption has been a case of great concern to the drug control agency.