I like cool, polished, intelligent guys, with terrific dress sense ––Rita Dominic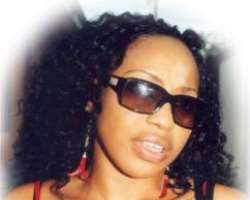 You started getting involved in television activities when you were much younger.
Yes, that was during my days of television programmes such as Children's Variety, and Junior Opinion in Aba, Abia State. I was also a great dancer. I won several dancing competitions at the local sports club and the Federal Government College, Ikot Ekpene, where I wrote my WASC Examination and passed my papers.
Where does your inspiration come from?
My inspiration comes from the encouragement of my immediate close-knit family, consisting of my parents, my two elder sisters and a brother.
What is it that thrills you about what you are doing?
When I recently visited Sierra Leone with some of my colleagues and I was overwhelmed by the turn-out of fans at the airport. Many of them wore T-shirts with our names on them. Another thing was that the Nigerian community in Dublin also recently presented me with an honourary award.
What is your philosophy of life?
I always strive to achieve my heart's desire.
What are some of the things you can't do without?
I can't do without my walkman or CD player.
What kind of music keeps you in the happy mood?
Oldies of course. I also like jazz and sentimental (music).
What is your best African food?
I like afang soup and semovita.
What is your beauty routine?
I don't wear makeup to bed. I must either have my bath or at worst wash my face when I'm tired. I then use mild cleansers and face wipe.
How about your favourite hairstyle?
I like the afro hairstyle and packing gel because it suits my face.
What kind of people put you off?
I dislike arrogant and pompous people. I think I like natural and humble people any day.
Who would you say is instrumental to your success as an actress?
My late mum was. She identified my obvious talent at an early age and supported and nurtured my academics and social achievements. She was very instrumental to my success as an actress.
What are your hobbies?
Acting, singing, watching movies, reading and travelling.
How about your educational background?
I attended Crescent Primary School, Aba. I graduated from the University of Port Harcourt with a BA in Theatre Arts in 1999.
When you are not on a movie set, what do you like doing?
I enjoy spending time with my friends and family.
What do you find attractive in a guy?
I like a guy who is cool, polished, intelligent and has a terrific dress sense.
People call you Silky Skin...
It may be as a result of my spotless complexion and smooth skin.
What do you do to ensure you don't add much weight?
I eat sensibly. In other words, I watch what I eat. I also spend some time in the gym.