MICHAEL JACKSON GAVE ME HEART OF GOLD – BOLAJI ROSIJI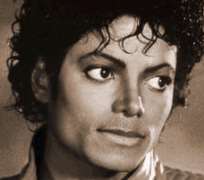 Michael Jackson
Former President of Performing Musicians Association of Nigeria (PMAN), Mr Bolaji Rosiji has explained why he decided to sing as a solo artiste. Although he has always supported other artistes, both technically and financially, Rosiji said the late Michael Jackson's music inspired him to start a project which would enable him show love to mankind, particularly children.
According to Rosiji, the late pop king and his brother, Marlon, play a great role in his choice of the project. He spoke to Excerpts:
Mum inspired me
My mother, Mrs. Gbemi Rosiji is a great giver. As the youngest child I used to hate it when she would send me up and down the stairs to bring things for people. 'Everyone must take something home' was her motto.
Sometimes when visitors came to the house, I would disappear. Children would take toys, sweets and biscuits, while adults would be given tie and dye Adire and other clothing materials. Until recently I did not appreciate the impact of this beautiful lady. I am convinced that if not for her, I would have become a big rascal. She remains a major source of my inspiration.
The song, Heart of Gold
It is about sharing love. It begins with: 'I am a heart' and what better way is there to describe the numerous people out there who are full of goodness. I also want those reading this interview to know that they also have hearts of gold, it's a matter of removing the dusty covering, and then the golden glitter will shine through.
The Heart of Gold  project is multifaceted and profound. And trying to find out how it really started is like solving the chicken and egg riddle. First of all, the Heart of Gold idea is a very personal journey for me. The song is a tribute to all the wonderful people I have encountered in this adventurous odyssey, called life, people who have sacrificed for me intimes of need. And in particular to all the so-called enemies, people who had sought to bring me down, I offer special thanks. For they were sent to teach me patience, forbearance and forgiveness.
This song is also a heart-felt tribute to the many golden hearted people of Nigeria. Secondly, I have, for many years, been looking for the opportunity to launch my own album, but work would not allow me, or you could say I've been lazy about it. So this is a chance for me to come out as a solo artiste as opposed to only singing in the church choirs of those days.
Michael Jackson and his brother Marlon's influence
Like most people, I got my inspiration from the Jacksons' We Are The World and Heal The World. In fact, Marlon's softhearted nature is contagious. I decided to involve my colleagues in the entertainment industry in order to expand the reach of Heart of Gold. Maybe we cannot call it We are the World, but we can at least call it We are Nigeria. Unlike We are the World though, I did most of the lead vocals.
What we hope to achieve
So many things. One of the first things I did in PMAN was to launch the Clean up Your Lyrics campaign. But I think the best way to get the message to our artistes  in order to neutralize all the negativity coming from the West is to set an example. Heart of Gold is a positive song and I hope that parents and children alike would be inspired by it.
The artistes I propose to feature
First, the music video embraces all the arts: dance, drama, music and fashion. So we intend to feature pioneers of these industries. Expect to see PSquare, Tee Mac, ArtQuake, Adewale Ayuba, Ara, Sina Peters, Rolling Dollar, Stella Monye, Leximojo-Eyes, 9ice, Charly Boy, Ngozi Nwosu, Olu Jacobs, Joke Jacobs, Lord of Ajasa, Showkey, etc.
What began as a simple idea has thus mushroomed into an adventure of epic proportions.
How we produced the song
We have Mikoyo, Klement Ola-Daniels, Femi Osho and Dabyna. I've had to be careful not to overload the song because too many artistes want to feature. What can I do? I ended up reducing a great solo improvisation to just a couple of jabs because it clashed with the harmonics and chord progression. The song will be mastered in the UK under the supervision of my nephew, TJ Griffith, who studied music technology. When the Heart of Gold  project is successful, one of my ambitions is to sponsor a mastering studio in Nigeria, so that our artistes would not have to spend so much abroad for finishing. But the first beneficiaries of the project must be the children.
Where and why I recorded Heart of Gold
it's not the equipment you have that matters, it's how well one understands the little you have. When I'm in the studio, I'm very fussy about tone generators and balancing and I need someone like Morris, with years of experience who can give me the right sound at the right time! I don't need my engineer to be fiddling with the mouse all day because that breaks the flow of creativity.
Plans to shoot the video
We hope to shoot very soon shoot. We are talking to a number of production houses, to see who can provide the appropriate combination of skills, equipment and film studio. The studio must have a high ceiling for some of our peculiar shots and must be air-conditioned because my artistes must not sweat.