RAS KIMONO RETURNS WITH NEW SINGLES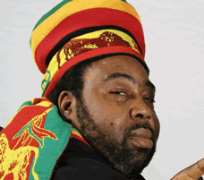 Ras Kimono
Oracle of Jah apostle and Rub-a-Dub Master, Ras Kimono recently returned to mainstream music with two new and very hot singles.
The well produced and mastered works that are currently ruling the airwaves and earning the dreadlocks-donning music star rave reviews among critics and pundits, are, Veteran and Wicked Politicians. In a chat with us, Kimono who returned to the country last year, after over a five-year sojourn in the US, maintained that he's back to reign and rule the music scene as a veteran Reggae artiste.
'These two singles are just a tip of the iceberg on what my fans and the music industry should expect from me when my full album comes out soon; this is just to wet their appetite. Since my return, I've been very busy working in the studios and performing at major shows within and outside Nigeria.
I just returned from a fantastic and historic show in Ethiopia, where I performed alongside other foreign acts.
I'm fully back in the industry as a veteran and that's the reason one of my new singles is called Veteran. I'm dedicating it to all my fans, while the other single, Wicked Politicians, is a clarion call to all the wicked and thieving politicians in our country to desist from their evil ways. Enough of their stealing and lootings, or else fire will burn and consume all of them ahead of 2011.'
Kimono whose immediate family is still residing in the US, said he's happy to be home to the warm embrace of his teeming fans and friends. He thrilled fans and guests at the recent declaration of Imo State Governor, Ikedi Ohakim, in Owerri, alongside other entertainers.
He equally stole the show at this year's second Niteshift's Coliseum-in-Concert, among other exhilarating shows that keep endearing him to his fans, especially youths.