EWANG, KIDNAPPERS AND AKWA IBOM POLITICS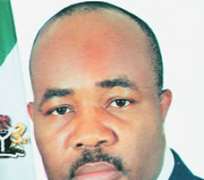 On Nov 3, 2010, the unusual happened in Akwa Ibom State. After weeks of steep anxiety and months of political mudslinging, the State Security Services (SSS) did something that calmed frayed nerves and exonerated the innocent.
Although the nation has been facing serious security challenges in recent times, the situation in Akwa Ibom State seem to have been distorted and blown out of proportion. Yes, Akwa Ibom is part of Nigeria, and has witnessed some kidnappings. But some desperate persons have, of recent, attempted to over-politicise the situation.
While on one hand they blame the security agencies for being inept and compromised; on the other, they accused Governor Godswill Akpabio of sponsoring kidnapping.
However, since the SSS, in one fell-swoop, arrested about 15 suspected kidnappers, the story has changed. The said suspects included young men between the ages 21 and 25 who admitted abducting Mrs. Comfort Ewang, wife of the former military governor of Ogun State, Group Cpt. Sam Ewang. They also confessed to kidnapping an Indian and Mobil staffer, Mrs. Lakshmi Tombush as well as a wife of a councilor in Ibesikpo Asutan.
Four of the suspects, Enomfon Aniekamauwem, a commercial motorcyclistfrom Ibiono LGA; Ime Bassey Akpan, a mechanic from Nsit Ubium; Itoro Mkpouto Bassey, a painter from Nsit Ubium and Anietie Donald, from Afaha Nsai, Ibiono LGA specifically confessed to their involvement in Mrs. Tombush and Mrs. Ewang's abductions. The women were released about a week a go.
Before now, Ewang, a three-time governorship aspirant on the platform of ANPP, had flushed the media with claims that Akpabio was behind the kidnap of his wife. But the arrested suspects had no link whatsoever with any government official, not to mention the governor. Hence the prompt arrest of the suspects through a special operation by the SSS has put paid to claims that Akpabio is a kidnapper and intolerant of opposition.
Well meaning Akwa Ibom people, and even government have sympathized with Ewang over the unfortunate kidnapping of his wife, just as they did when his name was listed in the Halliburton scandal. But pointing fingers at government as masterminds of his wife's kidnapping amounts to cheap blackmail and national disappointment.
Ewang reportedly met with Governor Akpabio over the wife's ordeal, but refused to cooperate with the security agencies to aid his wife's earlier release.
He rather decided to pay the kidnappers personally, instead of volunteering information and helping to set a trap for the criminals. Akpabio's open concern and sympathy as the chief security officer was all the opposition needed to link him to kidnapping. Ewang, at least, was a military governor. The difference though, is that while he had his kernel cracked for him by providence, Akpabio is cracking his with bare hands.
In a civil system, where the chief security officer controls no troop, the much he can do is to motivate the agencies by contributing some facilities, equipment, etc. That, Akpabio has done, probably more than any other governor in Nigeria.
Would it not have been more honourable for the ex-milad, as a statesman, to support the government to achieve good things for the masses? Air Commodore Idongesit Nkanga is no more a military governor but he has Akwa Ibom at heart. Even leaders like the Adewusis, the Bakos, the Ebiyes, the Abbes, the Ogbehas who are not even by birth, from Akwa Ibom, have been showing passion about the development of a state.
Yes, Enwang is qualified to test his popularity at the polls in any election.  Those who want to become governors know that it is not by mere wish. And it is not by unnecessarily politicizing crime issues and trying to maximise public sympathy from an unfortunate kidnap of a wife. It is unfair to accuse a man of masterminding such a crime simply because he is the governor.  When Ewang was the governor of Ogun and Rivers States, how many crimes occurred there?  How many did he plot?
Has the scripture not admonished us not to treat others the way we would not wish to be treated?