AS JTF LAUNCHES ATTACK ON GENERAL TOGO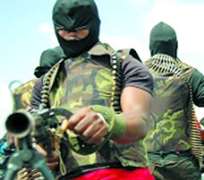 The Joint Task Force (JTF), has sealed off major exit routes on the waterways of Delta State to stop militant leader, 'General' John Togo from escaping from the fireworks of the soldiers. The taskforce is presently mapping out strategy to launch an attack on him for daring its men and allegedly inflicting injuries on some of its men and damaging its gunboats.
Commander of the JTF Major-General Charles Omoregie held a strategy-planning session, yesterday, with his senior commanders in Yenagoa on how to capture the militant leader.
Details of the meeting were not available at press time but the Sector Commander of the JTF in Warri, Colonel Jamil Sarhim was said to have briefed his commanders and other officers on the Wednesday confrontation, just as Ogodobiri community in Bomadi local government area, yesterday, reportedly disowned the militant leader.
Natives of Ijaw and Urhobo communities close to the location of the militant camp were also reported to be relocating from their homes yesterday for fear of attack by soldiers. Chairman of Ogodobiri community, Mr. Terry Youdowei told newsmen in Warri that information reaching it indicated that the JTF planned to bombard the Communities because of John Togo, saying the militant leader was not from Ogodobiri, hence the community should not be razed by the JTF as it did in 2004 in the manhunt for him.
He said Togo hailed from Ayankurumoh and his mother from Ogodobiri, which is 100 kilometres away from where he built his militant camp. TheChairman added, 'it is true he used to have a camp here, but he had since gone to open a new camp in Burutu. We don't know him in Ogodobiri, he is not from our community, he is an outlaw as far as we are concerned and JTF should not attack us because of him again.' However, the community leader said there was nothing wrong in Federal Government arresting him and that the people were in support of such action.
A councilor in Bomadi Local Government Area, Geofrey Didofa who led some leaders of the community to intimate the Ijaw leader, Chief Edwin Clark about their worries, yesterday, told Daily Sun in Warri, 'We don't want what happened on June 11, 2004 to happen to us again. That was why we went to meet Chief Clark to tell him what we heard, that the JTF wanted to attack us because of John Togo. We're saying that John Togo is not from Ogodobiri, they should arrest him but not attack us.'
President of the Ogodobiri Community Concerned Forum, Pastor Felix Okpe said, 'The militant camp set up by John Togo is far away from Ogodobiri community, we will hand him over to the security agencies if he dares to enter this community in any manner to seek refuge.'
Another Ogodobiri indigene, Barrister Gabriel Yabaku told Daily Sun on phone, 'Ogodobiri is a peaceful fishing and farming community about 60-100 kilometers away from where John Togo had set up his militant camp. We appeal to the JTF not to attack our community, we don't want to experience what we experienced in the past. Our community had declared him an outlaw and if we see him, we will ensure that he faces the law.'
Yabaku said the militant leader had been known to be a very bad person but when he came back recently and said he had accepted amnesty, and set up a farm in his area, people thought he had changed, only to convert the farm to a militant camp.