Updated: Security Forces Free MEND Held Hostages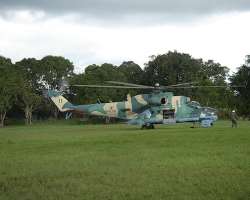 San Francisco, Nov 17, (THEWILL) – The joint military task force (JTF) charged with security in the Niger Delta today freed all 19 hostages taken by criminal gangs operating under the umbrella of the Movement for the Emancipation of the Niger Delta, MEND according to military sources.
The Nigerian military on Monday declared it would carry out a full assault on militant camps in the creeks of the Niger Delta following renewed criminal activities against oil installations in the area.
The operation which is still in progress in multiple locations across Rivers State, Bayelsa and Delta States will continue until the gangs are crippled, the source told THEWILL.
In a conference call with THEWILL on Wednesday afternoon (PST), JTF spokesman, Lieutenant Colonel Timothy Atinga said information was still sketchy on the JTF assault on militant camps but added that the operations have been successful so far.
"Details are still sketchy and hazy for now. We will address a joint briefing tomorrow (Thursday) at 10.am to update the media on the situation. But I can confirm that we have full operations ongoing in Rivers, Delta and Bayelsa States," Lt. Col. Atinga told THEWILL.
Those freed according to our source include the foreign workers seized from an Afren oil platform off the coast of Akwa Ibom State.
Exxon Mobil on Tuesday suspended production at the 75, 000 bpd facility at the Oso field, off the coast of Akwa Ibom after criminal gangs attacked the facility.