Uduaghan Campaign Organization blask E.K Clark …Says, Gang up cannot stop his re-election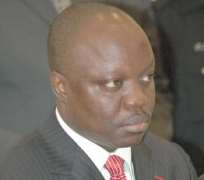 Emmanuel Uduaghan
The Uduaghan campaign organization has described as callous, wicked and ungodly, moves by former Minister for Information, Chief Edwin Clark to force the Economic and Financial Crimes Commission, EFCC, to arrest Dr. Emmanuel Uduaghan over a non-existing petition.
The anti-graft agency had insisted that it has not received and have no petition or allegation of corruption against Dr. Uduaghan who was removed from office by an Appeal Court in Benin, the Edo State capital.
But Chief Clark has insisted that the former Governor should be arrested by the EFCC and charged for corruption in a move seen as an attempt to stop the former Governor who has been cleared by the Peoples' Democratic Party, PDP, to recontest in the rerun election scheduled within 90 days.
In a statement jointly signed by the Director General, Uduaghan Campaign organization, Professor G.G Darrah and its Director of Public Affairs, Chike Ogeah, the organization frowned at what it described as a "campaign of calumny" being mounted by Chief Clark and his friends at the corridors of power.
According to the statement "It has come to the notice of the Uduaghan Campaign Organisation that there are a number of wicked, callous and ungodly moves by some treacherous entities in prominent domains carrying out an agenda of 'intense hate' and almost a 'morbid fear' against the person of Dr Emmanuel Eweta Uduaghan, the candidate of the Peoples Democratic Party (PDP) in the gubernatorial re-run election ordered by the Appeal Court."
"While Dr Uduaghan has accepted the judgment of the Appeal Court with philosophical calmness, equanimity and the dignity of a law abiding patriot, by preparing for the re-run election, his opponents are busy instigating and mounting undue pressure on their accomplices in these prominent domains, to use extraneous and extra-judicial forces to stop him."
"A day after the verdict by Appeal Court, Chief E.K. Clark openly called for the arrest of Dr Uduaghan in a nationally televised interview. This is unfortunate coming from someone who calls himself a leader of our great party in Delta State and an Elder Statesman. Chief Clark also stated in the interview that Dr Uduaghan was imposed on the State. One would expect that Chief Clark and his accomplices will see the re-run election as an opportunity to test their strength at the polls with Dr Uduaghan."
"Unfortunately, Chief Clark has embarked on a campaign of calumny including mounting undue pressure on the Economic and Financial Crimes Commission (EFCC) to arrest Dr Uduaghan. What is Chief Clark afraid of? He said elections did not hold in Delta State in 2007 and now he has been given an opportunity to test his popularity with the good people of Delta State. Let him challenge Dr Uduaghan at the polls and desist from using undue influence and extra-judicial means to stop him."
 
"Chief Clark and his accomplices in the corridors of power falsely give the impression that they are working for President Goodluck Ebele Jonathan, but we know that the President as the PDP leader in Nigeria has declared publicly that Dr Emmanuel Eweta Uduaghan remains the PDP candidate in the gubernatorial re-run election in Delta State. Yet, they are unrelenting in their gang-up and desperation to stop Dr Uduaghan. Part of their strategy is to instigate through unwholesome pressure the Economic and Financial Crimes Commission (EFCC) to arrest Dr Uduaghan with a view to stopping him from contesting the re-run election as directed by the Appeal Court."
"We call on Mr President to call these people to order and ask them to desist from this shameful anti-party behaviour. We urge President Jonathan and the National Headquarters of the PDP to protect Dr Uduaghan - the PDP candidate for the Delta State gubernatorial re-run election."
"We make bold to say that it is important not to throw the baby away with the bath water due to this vendetta, as not only the political future of Delta State is at stake but that of the entire South-South."
"Finally, we state unequivocally, that we at the Uduaghan Campaign Organisation remain faithful to all the ideals of our great party, the PDP and hereby reiterate our earlier position that as we speak, we are a hundred percent ready to re-deliver our state to the PDP family."

 


Readers' Comments