SMEAR CAMPAIGN WON'T DETER US, ENUGU GOVT REPLIES OBIECHINA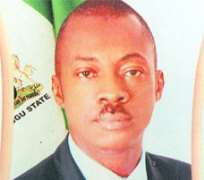 Enugu State Government has urged the people to ignore the smear campaign currently being executed by a handful of political jobbers desperate to resurrect their political ambitions that have long gone comatose. A statement issued by Chuks Ugwoke, the Commissioner for Information, Culture and Tourism, said it was unfortunate that those who once aspired to rule the people now descend so low as to spread falsehood to please their pay masters.
According to Ugwoke, 'the administration of Governor Sullivan Iheanacho Chime had earned a reputation for not joining issues with certain characters doing a hatchet job. 'This government is reputed for accommodating all shades of opinions and for opening up the political space.
'That's why we found it quite amusing that one Chief Alex Obiechina who once contested but failed in his bid to govern Enugu State could make such unfounded and malicious allegations against the person of Governor Chime.
'It is common knowledge in Enugu that Obiechina began to dream of contesting for the same seat again upon the emergence of Dr. Okwesilieze Nwodo as the national chairman of the Peoples Democratic Party (PDP). Nobody begrudges his ambition. What is quite unfortunate is that he is making such unsubstantiated allegations against Governor Chime to please those he believes will anoint him.
'In an interview he granted a national daily yesterday, he said among other things that the governor has made it impossible for any party leader to 'install even a councillor' in his ward. This alone clearly exposes the dictatorial tendencies of Obiechina and his paymasters. They want to install their stooges but the government of Governor Chime prefers to let the people elect their leaders. That is the difference and this is the bone of contention in Enugu PDP.'
The commissioner also described as laughable the insinuation by Obiechina that the crisis in Enugu meant that Chime was not in support of President Goodluck Jonathan's presidential ambition. 'Nothing can be more laughable. As the leader of the party in the state, it was the governor who called a meeting months back and pleaded for the total support of the party for Mr. President in the forthcoming primaries and the general elections. The party in the state rose from that meeting with an overwhelming endorsement of Mr. President as its sole candidate.
'Of course, we know those who are working against the bloc votes for Mr. President from our state. They are people who once benefited from past regimes as governor or minister. The anger of few others was that Governor Chime led the party to declare wholesome support for Mr. President. Obiechina, unfortunately, has no requisite information or knowledge to speak on such a matter unless as handed over to him.
'In truth, it is Chime's total support for Mr. President that is at the root of the insistence of some people to cause crisis where there is none. They want the party executive in the state dissolved so that they can, in their own word, 'install' their lackeys as executive committee members of the party and use them to work for their benefactors of yesterday when the time comes.