CHINA TO TACKLE RISING FOOD PRICE INFLATION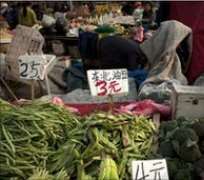 Some vegetable prices have risen by almost two-thirds so far this month
China's premier Wen Jiabao has said the government is preparing new measures to stem double-digit food price inflation.
"The state council is formulating measures to curb the overly fast rises of prices," he said in a statement on the government's website.
He gave no details, but they are said to include price caps, subsidies and penalties for food hoarding.
Meanwhile the Shanghai stock exchange has fallen nearly 10% in four days on fears of interest rate rises.
Painful price rises
The People's Bank of China raised rates unexpectedly in October in response to growing inflation pressures, and has adopted a more hawkish tone since.
Consumer price inflation rose to 4.4% in October, which was up from 3.6% a month earlier and its highest level in two years.
Food price inflation has become particularly acute in China, with food prices rising 10.1% last month.
The average wholesale price of some vegetables in Chinese cities rose by nearly two-thirds in the first 10 days of this month, raising fears that food hoarding was exacerbating shortages.
"Great attention should be paid to market supply and demand and prices because they are related to the public's basic interests," added Premier Wen in his statement.
Continue reading the main story
SHANGHAI COMPOSITE INDEX
Last Updated at 17 Nov 2010, 07:50 GMT
value change %
2838.86 -
-55.68 -
-1.92
More data on this stock index
Easy money
China's inflation problems – and the concomitant threat of civil unrest – also lie behind Beijing's recent criticism of the US Federal Reserve's resumption of quantitative easing (QE).
The Fed's new round of QE threatens to weaken the dollar, making Chinese imports less competitive in the US.
But in order to maintain a competitive exchange rate with the dollar, the People's Bank of China would have to intervene to buy more dollars and sell more yuan.
But by selling more yuan, China risks further fuelling inflation, as well as what some see as asset bubbles in property and stocks.