I may propose to Sheila —Uti Nwachukwu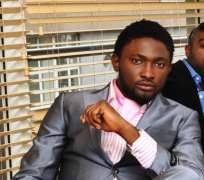 Since he emerged the winner in the last edition of the Big Brother Africa, BBA All Stars edition, which is the biggest reality TV show in Africa, Nigerian-born Uti Nwachukwu has, at different times, played down on his supposed relationship with another housemate in the BBA house, Kenyan-born Sheila Kwamboka.
Although he admitted that he couldn't show his emotions on the screen, he said he liked Sheila, a broadcaster, who was adjudged one of the prettiest girls in the house.
However, while he was on a radio programme on Saturday, November 13, Nwachukwu, a singer, model and entertainer, shocked his fans when he said he might propose to Sheila when he sees her. According to him, Sheila and Hannington would be flying into the country for his father's burial later this month.
He admitted to being in touch with Sheila, saying, "I just finished talking to her before I entered the studio now."
It will be recalled that Uti said he had no relationship before he went into the House because his ex-girlfriend broke up with him because she was feeling too unsure, despite his reassuring words.
The news will, however, interest most of his fans that have been waiting to hear some news about his love life.
But since his public declaration, many have been wondering if his family will accept Sheila who, despite her good nature and friendly attitude, is a self-confessed bi-sexual.
So, how will Uti's family members accept the beautiful broadcaster? This and many other questions will definitely find answers when Sheila arrives the country and if Uti, like Kevin, also a past winner, will take the bold step to propose to Sheila.

Sheila Kwamboka

Sheila Kwamboka

Uti Nwachukwu