OVERCONFIDENCE MAY RUIN FALCONS – SOUTH AFRICAN ATTACHE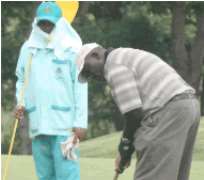 One of the South African volunteers attached to the Super Falcons has expressed dismay that if , overconfidence of the players is not checked, it may ruin Nigeria's chances of winning the Africa Women Championship (AWC) trophy. The Nigerian side is targeting a sixth title.
'In the hotel, they just eat and sleep. I do not think the coaches have any definite programme for the girls,' he lamented.
He said the girls were a bit heavy which could work against them in the crucial stage of the competition.
Nigeria is up against Cameroon in one of the semi final clashes and South Africa faces Equatorial Guinea in the other.
But this year's edition is very significant given the fact that the two teams that reach the final will represent the continent at the 2011 FIFA Women's World Cup in Germany.
Nigeria has always featured at the world stage since the first World Cup in 1991.
Its best outing was at the 1999 edition in USA reaching the quarter final.