Nigeria, Ghana, Deepen Cooperation As Mills Pledges Support For Nigeria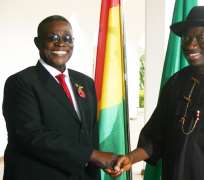 ABUJA, Nov 10, (THEWILL) - President Goodluck Jonathan today held bilateral discussions with his Ghanaian counterpart, President John Atta Mills, inside the State House, Abuja, with the two leaders pledging to advance developmental cooperation and better living conditions for their citizens and the ECOWAS sub-region. President Mills, who briefed State House correspondents after the talks, expressed confidence in President Jonathan as Nigeria's leader and Chairman of ECOWAS, saying: "I am lucky to have such a friend in the sub-region and I will continue to dialogue with him and with other colleagues to build a better sub-region and a better Africa." Mills pledged Ghana's unflinching support for Nigeria in her march towards free and transparent elections next year, which he said would signpost "positive signals to the rest of the world that our big brother, Nigeria, is following the path which has been blazed by other countries. "We will support and do whatever it takes to ensure that the people of Nigeria are given the opportunity to choose their leader," he stated. President Mills said he came to also personally congratulate President Jonathan on Nigeria's golden jubilee anniversary as an Independent nation, being unable to attend the October celebrations as he was outside the continent. He expressed Ghana's desire to work closely with Nigeria in pursuing common interests and objectives.
"I assure my brother, President Jonathan, of Ghana's preparedness to work even closer with our brothers and sisters in Nigeria to exchange ideas about the way forward," the President added.