ACN ASSURES FAIRNESS DURING PARTY PRIMARIES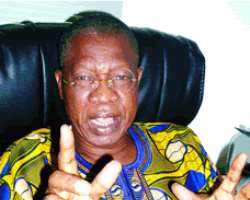 The Chairman of the Action Congress of Nigeria (ACN) in Ekiti State, Chief Jide Awe has assured members of the party aspiring for elective positions in the state a level playing field during the party's primaries.
Awe, who gave the assurance during the weekend when a senatorial aspirant from the Ekiti North Senatorial District, Mr. Olusegun Osinkolu came to declare officially, his ambition at the party's secretariat in Ajilosun, Ado-Ekiti, observed that was the only way the party could make the best candidates emerge and make them beat other candidates during next year's general elections.
He insisted that the leadership of the party had not endorsed any aspirant for the general elections, noting that the ban placed on the sale of the Form of Intent was later lifted to accommodate more aspirants in the free and fair primaries.
The Chairman assured that the party would treat every member equal, comparing ACN to Jesus Christ. He noted that the years being spent in the party would not make the leadership impose any candidate on the people of the state. Boasting on the ability of his party to sweep all elective positions in the state, Awe said all stakeholders in the party were working assiduously to build a formidable party that would win elections in the state and beyond for several years to come.
He warned party members not to engage in any act of thuggery, noting that the party was not meant for election riggers who were the patrons of the violent and deadly elements. The senatorial aspirants assured members of the party that he remained the only candidate who could defeat the incumbent Senator Ayo Arise, noting that he would prevent members of the Peoples Democratic Party (PDP) from rigging him out of the election in 2011.
Awe, however, confirmed the academic qualifications presented by the aspirant, charging him to visit the wards in his senatorial district. He also advised him to take his campaign to the wards and assist the people towards winning during the primaries and the election proper if he eventually emerge as the party's candidate.