CPC DENIES HOLDING CONSULTATION WITH GBEMI SARAKI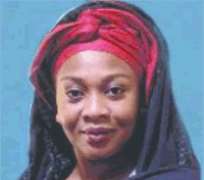 Gbemi Saraki
The Chairman of the Kwara State chapter of the Congress for Progressive Change (CPC), Olatunji Suleiman Buhari has said his party is not holding discussions with Senator Gbemi Saraki with a view to having her as its flagbearer in next year's governorship election.
Buhari spoke in Ilorin at the weekend against the backdrop of reports that the Senator was already holding top level discussion with the party.
According to him, although CPC as a party was ever ready to welcome new entrants into its fold, there is no discussion between it and the aspirant, adding, however, that the party would be ready to welcome her if she found its platform good enough to realise her ambition.
He noted that his party was preparing fully for the forthcoming elections in the state. He said with its large followership, CPC was out to cause upset in the governorship, state as well as National Assembly elections in the state. To realise this ambition, he said the party had started massive mobilisation across the state.
Meanwhile, the Gbemi Saraki Campaign Organisation has denied any plans by the senator to dump the Peoples Democratic Party (PDP) for another party in her bid to contest the 2011 governorship election in Kwara State.
In a statement by the Publicity Secretary, Dayo Thomas, the campaign organisation said the senator is still a bonafide member of the PDP and will remain in the party.
The statement stated that the senator believed that she could realise her ambition to serve the people of the state on the platform of the PDP and was ready to slug it out with other aspirants at the primaries to pick the party's ticket.
The statement accused political opponents of being behind the rumour of her dumping the PDP, noting however, that despite the shenanigans going on, the senator remained focused on the task ahead.