JONATHAN NOT INTIMIDATED BY CONSENSUS THREAT – CAMPAIGN ORGANISATION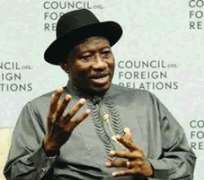 Jonathan
The noise about consensus candidacy for the North in the coming primaries of the Peoples Democratic Party (PDP) poses no threat to Dr. Goodluck Jonathan's presidential bid.
The Jonathan/Sambo Organisation which made the declaration said those campaigning for 2011 elections on the basis of consensus, religion or tribe were shying away from the real issues because they have nothing to offer Nigerians.
The group's Director, Planning Research and Strategy, Chief Mike Omeri who was answering questions from journalists on the fate of President Jonathan and Namadi Sambo should the Northern Elders Assembly led by Mallam Adamu Ciroma achieve a consensus among the Northern aspirants, said the President had nothing to worry about 'because Nigerians are behind him.'
According to him, President Jonathan is of the view that any reasonable aspirant should harp on his or her programmes for the citizens of Nigeria and not hide on the platform of ethnicity, religion or waiting to be adopted based on consensus. He stated that those riding on the crest of an anticipated consensus, religion or tribe were those who were worried.
Such campaign based on mundane issues, he stressed, 'is a sad commentary on our polity and a deliberate insult on the collective intelligence of Nigerians.   Are we expected to eat religion or tribe if we elect such people into office?
'Nigerians must ask questions and we must be wary of these people.  Why would any reasonable leader at this jet age be campaigning on the basis of religion or ethnicity.  We must rise above this sentiment and reject such people because they have displayed shortsightedness and barrenness of new ideas,' he said.
He explained that the Jonathan/Sambo Organisation's campaign was based on issues and programmes to uplift Nigeria, adding that Jonathan on August 26, 2010 had unveiled a roadmap to develop the crisis-ridden power sector, which he hoped would provide Nigeria with regular and sustainable power supply.
The programme, Omeri added, would achieve a total generating capacity of about 14,000 MW by the end of 2013 while about 3,000 MW on short term and about 5,000 MW when fully developed from sustainable and renewable.
The Jonathan/Sambo administration he pointed out, would therefore proceed with developing Hydro power from both Mambilla and Zingeru dams, Gurans Phase II, Kashimbilla and over 40 dams across the country.