IT'S NOT EASY COMBINING MY TV SHOW WITH MUSIC – IFY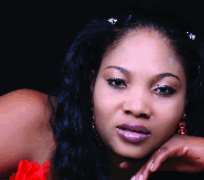 Ify
If you call her jack of all trades and master of all, you are right. If you call her an enigma, you are also right but one compelling factor in the life of beautiful Ifeoma Chukwu is passion.
Passion for what she believes in and passion for what she loves is her way of life.
This passion has made her a success in two worlds of business and music.
The amiable lady simply known as Ify is the current host of thriving business programme, De Market Place showing on STV, TVC and MITV. She also uses her sonorous voice in singing, hence her wave making album entitled, Ify De Revelation.
Blockbuster sought to know how it all began.
'My journey into music began in my university days at Ahmadu Bello University, Zaria where I read Economics and thereafter did my NYSC in Calabar. But all through the years, I sang with House on Da Rock Kaduna and ABU Mass Choir, which I was a pioneer member. I continued with HOTR Calabar during my service year.
I also worked with CRBC marketing in camp as a youth corps member when I had to raise money for my CD group. So, what I did then is what I am replicating on my show, De Market Place that began two years ago.' Chukwu said.
The fair-complexioned woman explained the uniqueness of the programme.
'DMP has segments aimed at helping and building SME's. So far I think De Market Place is the most SME friendly program. We have built businesses and we are still building businesses. I also hope that some day soon someone would also encourage me. It is about time that corporate organizations began to patronize us because we have the grassroots market and entrepreneurs from all walks of life. It is a consumers and producers platform which brand owners including banks should take advantage of.
We have interesting business segments like shoppers guide, product review, de entrepreneur, bizness events, product launch, brand marketing, where we take top brands to the market place, streets, making their presence felt in diverse areas. By the grace of God, I have campaigned for brands like Veleta, Promaxx, Nora Foods, Adam and Eve, Emily, Black Ox, Sunsmile and Tuna Fish, among others.'
On the music front, Chukwu, who hails from Ideato North Local Government Area of Imo State, revealed how music has been her life passion.
'I write songs with every experience of my life. The album shows different aspect of me music wise. It contains 16 tracks. With hit songs like U're My Lord, Odara, Bridal Song, Onye olu ebube, Jeun Soke, Thank U Jah, making waves. Comments from music lovers have been very encouraging, hence my CDs hardly stay overnight with sellers.'
The mother of one also offered an explanation on how she joggles her television programme with music.
'Joggling between television programme and music has not been easy, especially in an industry where you have to encourage yourself to move on, produce, promote, package and even market yourself. It hasn't been easy but God, my husband and my fans have kept me moving on. Music is my passion while De market place is my business.'