THESE TWINS WASHED DISHES TO GET EDUCATED. NOW THEY'RE LAWYERS IN CANADA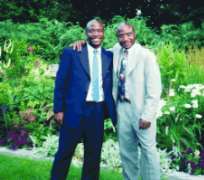 June 16, 1993- just four days after the historic June 12 presidential election won by business mogul, the late Bashorun M.K.O Abiola, but later annulled by the military government of Gen. Ibrahim Babangida, a set of twin brothers boarded a flight from the Murtala Muhammed International Airport to Canada. They were barely 18-years old, having just completed high school in the North American country. On them, each had $500 given by their father, who asked them not to call home to ask for any money, as according to him, they had more than he had when he entered the same country to study years back.
The old man also told the lads that he had more responsibilities while he sojourned in that same country, where they were born when he was still a student.
With this admonition, Taiwo and Kehinde Olalere braced up for the uncertain future and challenges that awaited them in the new land. The two young men were just two years old when their parents relocated to Nigeria, upon graduation. So, it was not as if they knew Canada so well.
Worse still, they were yet to gain admission into a university, even though they are brilliant chaps, who made top grades in their school certificate examinations.
What kind of parents would thrust such innocent teens on such a tough adventure? Callous, irresponsible?
No, Mr. Remi Olalere and his wife, Tayo (Nee Okunola), actually had the best of plans for their children. They had spent quality money to get the twins, who are identical educated in some of the very best private schools in Nigeria . Both had attended Bernadette School in Abeokuta and Nazareth Primary School, Lagos for their elementary education, after which they were temporarily separated to attend two different boarding schools. While Taiwo attended Remo Secondary School in Sagamu, Ogun State, Kehinde went to the famous Mayflower School, Ikenne, founded by the legendary educationist, late Tai Solarin.
With this solid background, the elder Olalere and his wife reckoned that international exposure and tertiary education abroad would do the twins a world of good; moreso, as the educational system back home was virtually on the brink of collapse.
As Kehinde told Saturday Sun : 'Our parents have always said they would like us to have the opportunities they did not have growing up. They wanted us to have the best education possible. They wanted us to see that there are better ways of running things than in our beloved country, Nigeria. It was the second best decision they made. The first best decision they made was to relocate to Nigeria, since we're able to survive in both Nigeria and Canada. '
Before their departure from Nigeria, Mr. Olalere had told the boys: 'If you are my children, you won't bring shame on the family. We have trained you enough to survive on your own.'
Some days, prior to their departure, their mother had given them a Bible and told them that all of life's questions and answers were in the book. These exhortations were to guide the boys, who, despite also being Canadian citizens by birth, had to face harsh realities of life in the new world. They worked part time, doing menial jobs to make ends meet, while they enrolled at Glebe Collegiate High School for grade 13.
Taiwo worked as a dishwasher for five years, while Kehinde also did for a year before getting cashier's jobs at grocery stores. 'Sometimes, you get cuts in your hand from the dish washing,' said Kehinde, adding: 'In one job, Taiwo was not paid his full wages as the cheque he received bounced. When he returned to collect his wages, the company had a sign stating that it was no longer in operation!'
But, the twins persevered and today are proud lawyers, specialising in immigration law.
Both are partners in Olalere law office where they, among other things, assist prospective students and immigrants to Canada from Nigeria, Africa, the Carribeans and other parts of the would realise their dreams of living and working in the country reputed to have one of the highest standards of living and a sound economy; the only one, perhaps, not affected by the global economic meltdown that others are only just trying to crawl out of. They also work in partnership with the Canadian Department of Foreign Affairs and International Trade and the Canadian High Commission in Nigeria.
Ironically, they had not set out to be lawyers. In their o' levels, Taye took commercial subjects and it was hoped he would turn out an accountant or a businessperson, while Kehinde was a science student, with a vision to becoming a medical doctor or pharmacologist. But, the events related to the June 12 debacle in Nigeria shaped the boys' lives. As it were, Taiwo felt strongly that becoming lawyers would enable them make a significant impact on the world. He saw that lawyers, like the late Chief Gani Fawehinmi (SAN), Femi Falana and former Nigeria Bar Association (NBA) president, Olisa Agbakoba, were the primary individuals challenging the dictatorial and undemocratic regimes in Nigeria at the cost of their personal liberties. He strongly felt that the law could be used as a tool to effect positive change for the betterment of all.
Although, they had no background in law, the twain informed their parents of their decision to become lawyers in 1994. Though shocked, they fully supported the kids. Taiwo and Kehinde consequently bagged a Bachelor of Arts degree in Law and Political Science from the prestigious Carleton University, Ontario in 1998.
Then tragedy struck. One of their two main backbones, their mother, died in Nigeria. The twins were devastated and lost the zeal to continue their pursuit of becoming full-fledged lawyers. But their father encouraged them, whereupon, they were admitted into University of Windsor Law School, for a three-year Bachelor of Law degree programme.
On September 23, 2004, in the presence of their father, younger brother, sister and friends, Taiwo and Kehinde were called to the Ontario Bar as Canadian lawyers, having passed the bar examinations in the first attempt.
Taiwo believes anyone can attain his dream, if he works hard at it. He says: 'Canada is hard, but there are lots of opportunities for those willing to work hard, adapt and integrate into Canadian society. Prospective immigrant must have a dream, have a plan and implement that plan. This  is what we did to achieve our goals in Canada. There are business opportunities in many areas, such as real estate, import and export business, health care professions etc. The opportunities are endless.'
The brothers say white Canadians have generally treated them well, but note that as in any society, there are few bad apples.
'Luckily for us, we are lawyers who know our rights,' Kehinde points out.
As is common with identical twins, people mistake Taiwo for Kehinde and vice versa, with some starting conversations thinking they are speaking to the person they know. 'We laugh it off and let them know they've got the wrong person,' says Taiwo, stressing that some long time friends still have trouble differentiating them.
Taiwo and Kehinde said that they cannot speak of the Nigeria community in the whole of Canada, Nigerians in Ottawa, where they have lived for more than 15 years, are united, vibrant and strong. 'If a crisis hits a Nigerian family, that family knows it can count on the support of the community,' discloses Kehinde, adding: 'There are Nigerians in Ottawa who have become adapted and integrated well to Canadian society and doing well. You find them in government, business and licensed professions. On the other hand, there are Nigerians who are not adapting and integrating into Canadian society and are not doing as well.'
How has it been working together as partners? Kehinde replies: 'Both of us know we can have a disagreement, but, we don't take it personal since we're both aiming for success at the end of the day. We feed off each other's energy and enthusiasm for the future.'
When will they get married? The twins reveal they are into serious relationships and do not foreclose wedding the same day.