THREE CHILDREN DIE IN BRIDLINGTON HOUSE FIRE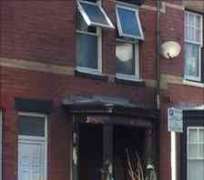 The house has been cordoned off with police tape
Three children have died and their mother has been seriously injured in a house fire in East Yorkshire.
The fire broke out at the property in Clarence Avenue, Bridlington, shortly before midnight.
Humberside Fire and Rescue Service said the children, one girl and two boys aged three, five and nine, died.
The children's mother Samantha Hudson, 27, is said to be in a serious but stable condition at Scarborough General Hospital.
Police said there was nothing to indicate that the fire was started deliberately.
However, Ms Hudson had returned home late on Thursday evening and police wanted to establish where she had been before the fire started.
Mark Rhodes, head of operations for Humberside Fire and Rescue Service, said it was too early to establish the cause.
He said: "We were faced at the time with a very severe house fire. Now this is a typical sort of three-storey terraced property, fire on the ground floor but very intense, very dense smoke logging right throughout the property.
"[Fire crews] made a search of the building and, very regrettably, we found four casualties who were rescued from the second floor of the building.
Continue reading the main story
'
Start Quote
I do remember the firefighters bringing them out, they were like little rag dolls'
Lesley Salisbury
"We took them outside, we worked extremely hard with the police and the paramedics. We undertook some resuscitation before conveying them away to hospital."
The property was cordoned off with police tape on Friday morning as forensic experts examined the scene.
Nurse Lesley Salisbury, 59, described how she was woken in the night and helped perform first aid on the youngsters.
"A firefighter brought out a little boy.
"I told him I was a nurse and I started to work on him. I think I just went into nurse mode.
"I was doing chest compressions and the firefighters were doing the oxygen. After that it was just a blur, a dreadful blur.
"Some of the neighbours said I worked on the other two as well but I don't really remember.
"I do remember the firefighters bringing them out, they were like little rag dolls."
Firefighters faced a "very difficult" situation
Edith Dawson, 86, said she watched as "fierce" flames tore through the house.
"It's heart-breaking. I had seen the children playing in their grandmother's back yard. They hadn't been in the house all that long, probably no more than six months," she said.
"It was terrible, with the wind as well, it was so fierce. There were flames coming from the top and you couldn't see for the smoke. It was terrible. It must be heart-breaking for them, and so near Christmas."
Mrs Dawson said the fire appeared to have been put out by about 0300 GMT.
Sue Everson, headteacher at Hilderthorpe Primary School, where the children attended, said their deaths had devastated staff and pupils.
She added: "All of us at Hilderthorpe Primary School are shocked and saddened by the news that three of our pupils have died."