POLAR BEARS WALKER AND MERCEDES IN 'SHOUTING MATCH'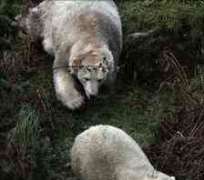 Mercedes gives chase to Walker in the enclosure
The UK's only two polar bears have come nose to nose for the first time after they were given access to the same enclosure.
Mercedes has been at the Highland Wildlife Park at Kincraig since October last year when she arrived from Edinburgh Zoo.
The aged female bear has been joined by two-year-old male Walker from Rhenen Zoo in Holland.
Mercedes chased Walker during a series of confrontations.
Collection manager Douglas Richardson said there would be a "shouting match" between the animals before the pair settled down and their "cold war" eased.
Until now the two have been kept next to each other in separate areas.
Eventually, Walker will move to another enclosure in the park under plans to breed the bears. Mercedes is not part of the breeding project.
Mr Richardson said: "He wants to play and she wants to tear his head off.
"With polar bear introduction what you usually get is quite a lot of shouting and then open mouth charges at each other, but in general it doesn't really amount to anything."
He added: "He is very respectful of her."