Ghanaian Actress LYDIA FORSON ABUSES FANS ON HER FACE BOOK PAGE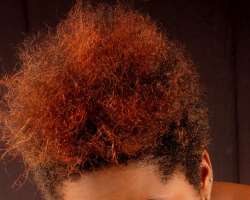 Facebook has become one of the biggest social networks for people to meet their friends and loved ones but it hurts so much to realize that celebrities have used it as an arena of disgracing their fans and to hurl insults on media people who write stuffs about them that are not in their favour.

Checking on Lydia Forson`s face book page last week, this writer came across something on her status which reads "A guy is seriously looking for a Sugar Mummy, anyone who is interested should contact him so he stops writing to me. This was his recent email to me: his name is Osuji Francis Chidi :''Wats up i saw ur pix nd i like u. I need a sugar mummy".

This writer contacted Lydia Forson and enquired if she thinks she is being fair to her fans, because the facebook site is mainly used for its entertainment purposes and for lighter issues therefore its not everything said there that is taken seriously.

Lydia replied with these words: "Mr. Attractive, I think you just missed the sarcasm in all of this. If someone wants to act like a fool, then he will be treated as such. No one has the right to abuse a lady verbally. Abuse comes in various forms and sending sexual explicit e-mails is one of them. Since our country has no laws on stalkers this is his punishment. If this will save one lady from his unwarranted sexual perversion then I will do it. And FYI, this was not a love letter). She continued that "Mr Attractive, I seriously don't want to go into a war of words with you. First of all, this is Facebook and not a newspaper. I'm allowed to write whatever I feel, however unserious it may seem to you and you on the other hand, you are allowed to comment on it" she wrote to me during a chat on facebook.

There were comments and counter comments from other people on the site when issues were getting out of hand. When it looked like she was not satisfied with the happenings, she added this statement as her last bite. "Attractive, since you have chosen this medium to express your opinion I may have to do the same to you. Even though I would have preferred to do it in private to save you the embarrassment. There is something called 'SARCASM' and since you failed to see it, I will define it to you" this is how it all ended. It is sometimes interesting how our own celebrities with thousands of fans around the country choose to behave on the face book page. We in the entertainment industry would like to plead on behalf of fans who always want to get close to these people (celebrities) that, there are some who do not know how to nurture the stardom they are enjoying so they should be very careful with them in their approach. After all, being a star does not automatically make one friendly to the other. A word to wise is enough to all our so called stars and celebrities.