NOLLYWOOD DEMOCRATS IGNITES OWERRI FOR OHAKIM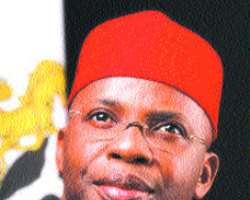 Ohakim
It was indeed a spectacular and scintillating sight to behold over the weekend when some of the biggest names in Nollywood stormed Owerri, for the well-attended public declaration of Ikedi Ohakim, the Imo State Governor, for a second term in office.
The movie and music stars who invaded Imo, for the declaration, which held at the Dan Anyiam Stadium, came under the aegis of Nollywood Democrats, with top actor and comedian, Okey Bakassi as its founder and national coordinator.
Aside adding razzmatazz and glitz to the declaration ceremony with their intimidating presence on stage and around the venue, they equally hailed Ohakim, for consolidating on the new face of Imo vision and mission.
The stars who spent two memorable days with Ohakim, his delectable wife, Chioma and the entire Imo people, were first hosted to a lavish dinner/reception at the State's multi purpose hall, inside the Government House, upon arrival, by Ohakim and members of his executive, who immensely thanked the entertainers for coming to felicitate with them in Imo State, which Ohakim, happily and boldly told them was now in the hands of God.
Among the famous names that stormed Imo for the talk of the town declaration, which was beautifully anchored by Bakassi, a former Executive Assistant to Ohakim, but now aspiring to lead his people at the Imo State House of Assembly were: Emeka Ike, Patience Ozokwo, Tony Umez, Victor Osuagwu, Charles Awurum, Emeka Enyiocha, Francis Duru, Uche Elendu, Gentle Jack and Tom Njemanze. Others included: Rita Edochie, Thelma Nwosu, Mike Nliam, Theodore Anyanji, Dickson Iroegbu, Andy Ike, Ugo Stevenson alongside several Imo based entertainers.
The highpoint of the visit was when the stars that wowed all at the capacity filled stadium with their intimidating presence were called on stage to greet Imo people. In fact, upon mounting the stage, the entire stadium erupted in cheers for over five minutes; it took the intervention of Bakassi to calm the excited crowd whose cheers were deafening. With that ritual over, the stars were led to the VIP section of the stadium, where they shook hands and exchanged pleasantries with visibly elated Ohakim, his wife, top government officials and other dignitaries present.
Leading acts such as: Ras Kimono, Raw Nwanne, Flavour Digidi Dunhill, Saro Wiwa and some Imo-based entertainers equally mounted the stage to thrill Ohakim and Imo people. In fact, we heard an indigene jokingly telling his friends that Lagos entertainers had succeeded in turning the declaration into a music and movie concert. Speaking on the rationale behind Nollywood Democrats, Bakassi, disclosed that it's a non political and very conscious movement that seeks to help entertainers speak with one voice while pushing their demands and interests to those in positions of authority.
'Nollywood Democrats is a body we formed to help Nigerian entertainers speak with one voice, especially when pushing or seeking for better welfares from those in authority. It's apolitical, but will continue to work closely with those in authority, because we cannot isolate ourselves from them. We are here in Imo to thank Gov. Ohakim and also ask him for more support and assistance since he's an entertainment loving leader…'