OSHIOMHOLE PROMISES TO PROVIDE DIVIDENDS OF DEMOCRACY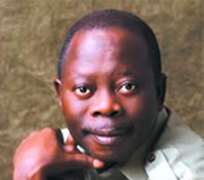 Edo State Governor, Adams Oshiomhole yesterday recalled the tortuous process he went through to reclaim his mandate, and promised to give his all to the people of the state by providing dividends of democracy.
The governor, who was speaking during the commissioning of reconstructed 2nd West Circular/Ariuosaghe roads in Benin, acknowledged the massive support of the people of the state, which he said, made his victory possible.
He noted that the opposition in the state had tried to downplay his achievement and try to confuse the people, but said he was reassured from the peoples' comments at the commissioning ceremony that Edo people could not be fooled anymore.
The governor, while recalling his invitation by the Baptist Convention to an event at the church premises, which drew his attention to the deplorable condition of the two roads, directed that a 500KVA transformer be installed in the area to enhance electricity supply.
Governor Oshiomhole, who also directed that water supply, which was disrupted due to construction work on the road be restored, also announced that streetlights would be provided along the West Circular Road in line with the standard policy of the state government to light up the state.
He announced that the state government would construct a roundabout at the five junctions along the Uselu/Lagos Road to effectively manage the traffic situation, just as he promised that the state government would tackle the problem of flooding in the area.
He observed that projects were sited in area where important personalities reside by politicians but said his approach to governance was different, adding that he would focus on the area of needs of majority of the people. The residence of the area around the two reconstructed roads in their various comments commended the governor for taken prompt action in reconstructing the roads, which they said were constructed 30 years ago by the administration of Prof. Ambros Alli.