FALCONS TEST LIONESSES MIGHT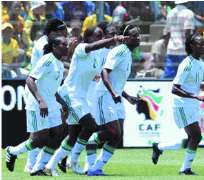 High riding Nigeria's Super Falcons are in killer mood to take on the roaring Lionesses of Cameroon in the semi-final duel of the African Women Championship in South Africa. The Lionesses came second in their group behind defending champions, Equatorial Guinea and they are desperately contesting the title, having survived the group B hostilities in the first round.
Falcons are living no stone unturned to win the championship with the support of goal scoring- machine who may likely end up as tournament's highest goal scorer, Perpetua Nkwocha.
Nkwocha has vowed to help her country lift the AWC trophy and against Cameroon she promised to play as if her life really depended on it.
Champion, Equatorial Guinea, is also through to the semi-finals after beating Ghana 3-1 on Monday.
Equatorial Guinea finished top on the table in Group B, ahead of Cameroon, who secured her place in the last four with a 2-1 victory over Algeria.
The results mean that host, South Africa, will meet Equatorial Guinea in the semis as
Cameroon battle Nigeria in another duel.
Those games are to be played on Thursday and the final is on Sunday.
Algeria had already been ruled out of making progress before the final round of games, but Ghana still has hopes and came out in combative mood at the start of her game against the reigning champions.
But it was Equatorial Guinea who scored first, with Genoveva Ayonmang, giving the country the lead after just 10 minutes.
The Black Queens levelled just before the break when Agnes Aduaku gave them hope, but in the second half, Equatorial Guinea sat back and absorbed the Ghanaian attacks before hitting them twice on the break.
Meanwhile, Enow Ngachu, the coach of the Cameroon team, has expressed his utmost happiness at his sides victory in Fridays game against Ghana beating his chest that they are on course for an historic finishing in this year's competition.
Speaking shortly after the match, the coach reiterated that he knew the weaknesses of his opponents after watching their opening day game against Algeria.
"I am very proud today. I am, indeed, very happy about the outcome of the encounter. I told my girls what I saw when I watched Ghana play against Algeria and we rightly plotted our strategy. I am happy it worked out today".
Cameroon had drawn her first game against Equatorial Guinea 2-2 and was in great need of a win going into the second encounter against Ghana and the coach still went on to reveal that they were never really under pressure to deliver.
"No, we were not under any kind of pressure. We knew exactly what to do in such circumstances and if you had watched closely, we changed our tactics in the 2nd half. The players followed my instructions because I asked them to catch them on the counter attack.
We had no problems executing that and the result went our way.
As it stands in the group, Cameroon is highly placed to pick the top spot in the group, while Ghana and Equatorial Guinea slug it out for the second position but the Lioness' coach was quick to imply caution.
"We have not qualified yet. We still must get a win against Algeria but we have seen how strong they are. They are very stubborn and capable of being problematic just like we saw them against Ghana and Equatorial Guinea. Our objective is to place 1st in the group and we will do everything to achieve that against Algeria.
The team captain, Bella Josephine, had the last words as she was full of pride for their achievement on the night. "Cameroon is always Cameroon. When we went down, we were never discouraged. We continued fighting and we demonstrated our resolve and determination by once again coming back from behind. A Lion remains a Lion", she stressed.