Jonathan Moves To Avert Strike, Meets Labour Today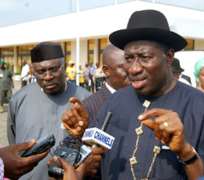 ABUJA, Nov 09, (THEWILL) - In his desire to avert the Labour strike slated for Wednesday, President Goodluck Jonathan has cut short his official visit to Lagos to lead a high-powered government delegation to emergency talks in Abuja this evening with representatives of the organised labour.
Presidential spokesman, Ima Niboro said in a statement that government delegation to the talks at the Banquet Hall of the Presidential Villa will include Vice President Namadi Sambo, the Minister of Finance, the Minister of Labour and other key ministers.
He said in the overriding interest of the nation, President Jonathan urges Labour leaders, once again, to embrace continued dialogue on the issue of a new national minimum wage.
"The President wishes to reassure Nigeria's labour force of the present administration's continuing commitment to progressively work towards achieving realistic salaries and wages for all Nigerian workers as evidenced by the increase in the salaries of federal government employees implemented last month," he said.
He said it is President Jonathan's expectation that after reviewing government's action plan for a new national minimum wage in the shortest possible time which will be presented to them today, Labour leaders will show good faith by calling off the planned strike with all its attendant negative consequences for the national economy.