MY PARENTS USED TO BEAT ME SILLY WHEN I STARTED ACTING AT THE AGE OF 10 ––JIDE KOSOKO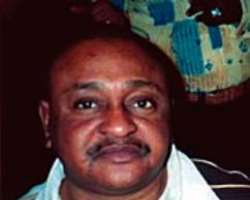 Jide Kosoko started acting at the age of 10. Although his parents tried to discourage him because of his studies, they had to let go because of his insistence on choosing acting as a career. He tells ADAEZE AMOS how to have a united family. Who is Jide Kosoko, apart from being an actor?
Apart from being an actor, I'm a humble person; an easy going person. I try my best to be fulfilled in my society, be fulfilled in my constituency and my constituency is the theatre industry. I'm happy that I have been contributing my quota for quite a long time now.
What was your childhood like?
I was a bit on the rascally side when I was much younger. There was no doubt about that, having started acting at the age of 10 in 1964. That was the year I also had my first television appearance in a production titled, Makanjuola, produced by Ifelodun Travelling Theatre. I was a member of the group. This is how it happened: one of our tenants, Dele Toyibo, an elderly person and member of Ifelodun Travelling Theatre, wanted to have a production on television.
He needed a boy of my age then to play the lead role of a character called Alabi. So, they invited children of my age. We were auditioned and I won the role. Since then, I have been into acting. But it was the time parents didn't want their children to go into acting. Usually, in those days, when we were in the studio, there were live transmisions of programmes. So, after acting, I got home to receive the beating of my life. My parents used to beat me silly when I started acting.
But that didn't stop me from acting. I still went ahead, regardless of all the efforts from my mother to stop me; fighting and harassing the leaders of the team. I later formed my own group known as Jide Kosoko Theatre in 1972. Again it did not stop me from being serious with my studies and partaking in all the activities of the youth then in school. I later read Dramatic Arts at the Yaba College of Technology. I also had some certificate courses here and there.
What are some positive changes you would like to see in Nollywood?
I want a Nollywood with a good pedigree, Nollywood with quality production. I want a situation where we will use what we have to achieve something good. I don't want something that will give us a negative image. I want an industry that will be highly profitable, viable for the practitioners so that we will be able to compete with our colleagues in the Diaspora.
What do you do to unwind?
I must tell you that I'm not really a party person but I love staying indoors, playing indoor games like monopoly, scrubble, chess, ludo with my wives and children. I'm a polygamist, I have two wives and we stay under the same roof. We are all happy together (laughs).
What misconception do people have about you?
A lot of people think I'm very strict maybe in an attempt to lead them well. Of course, I'm bound to be determined and focused. I'm the current President of my association and that means I will have to apply a lot of wisdom to be able to lead them well. I need to develop my people. It's a specialised industry. It is not a kind of industry where people just take money and get out like some people I wouldn't want to mention their names here do.
What are your guiding principles?
My guiding principles in life is to remain focused and dedicated in what I believe in doing and do it well.
What is your most embarrassing moment?
That comes almost all the time. When you see all these area boys, especially when you don't have money to give them, it could be embarrassing.
Some actresses often complain about producers demanding sex before giving them roles.
That is very bad. I have never done it before and if there are producers doing it, I will condemn them; though some people may not see it as something bad, as they feel it happens in every industry. Personnel managers do it to their staff. Teachers do it to their students, politicians do it among their people, government officials do it; journalists do it. But they are all professional abuses on the ethics of their professions. And as I said earlier, it is not good. But, frankly speaking, as a producer, even if your intention is not to give her a role because you want to have sex with her, you can come across somebody you love. Is it not possible? It now depends on who that actress is. If she is not complaining that she slept in your office to get a role, it's nothing. But honestly, I find it difficult to believe that producers demand sex before giving out roles. It's funny.
What is your general assessment of the industry?
It has a brilliant future, very bright. We have come to stay, the industry as a whole, and that is why most of the time I hate answering questions that border on division among the English and Yoruba actors and actresses. You are entitled to produce a Yoruba or English film. Nobody is restricting anybody from doing that. You can appreciate our effort; you can see that Nigeria has been considered as the third largest producer of home videos. We are improving on the quality of our productions on a daily basis and as such, we are happy. Besides, we have a listening government. Obasanjo's government was the only one that had ever shown interest in the film industry. With government participation now and little contribution, we will grow.
I'm happy that most of the things that had happened are taking place when I'm still alive. We now have the Motion Pictures Practitioners Council. We have a standing committee already, and this body will definitely unite all existing associations in the industry. We will speak with one voice and this will go a long way to stabilise the industry.
What is the main problem facing the movie industry now?
Lack of funding is the bane of the industry. We have proved to the world that we have the talents. But with investors like banks and other financial institutions funding the industry, it will move forward.
Acting or modelling, which is more lucrative?
I hate people calling me a model. As a star, I only endorse products. In other words, I'm bigger than that product. I should not be seen as being part of the product I am advertising, I only endorse it.
Tell me your most challenging moments.
I have challenging moments all the time. All my productions are challenging, because I would want to make sure that I satisfy my numerous fans. But my most challenging moment is when I fight for my people for a particular reason. I fought with the Censors Board, but I don't want to go into too much of that now.
As one of the few actors that started acting very early in life, how will you compare the industry now?
When I actually started we didn't have videos. There were no movies in Nigeria at all. The one we had then was the television thing. In fact, my orientation was more of stage performance. If you want to compare what happened then and now, you will see that there are a lot of changes. When I started, we were only on black and white. A few homes had television. That was the period when you saw people watching a particular production through the window of any home
Many claim that the English movie industry is doing far better than the Yoruba movies. How far is this true?
Do you also believe that? When you say they are doing better, in what area are you talking about? Do you know that a good film is determined by the quality of the equipment used: the production, the costume and above all the story line – complemented by the artistes invited to narrate the story? These are the things that make a good movie. So, I don't know which of them you are talking about. If the English movies cherish glamour, the Yoruba film industry cherishes a good story line, and all these factors are what you can say contribute to the quality of a movie.