ASUU, FG 2009 AGREEMENT HAS NOTHING TO DO WITH STATES – OBI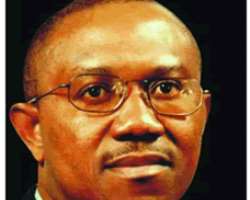 As the feud between Academic Staff Union of Universities (ASUU) and South-east state governments lingers, Governor Peter Obi of Anambra State has said the 2009 Federal Government agreement with ASUU has nothing to do with states and private universities.
Obi, who is the chairman of the South-east Governors' Forum, however, assured that the ongoing strike by ASUU in the five states of the zone would soon be called off.
Implementation of the ASUU and Federal Government agreement had been the main issue in the crisis with ASUU insisting on the implementation and improvement in both infrastructure and general standard of education in the universities in the zone.
But speaking at the weekend at the state Reorientation and Empowerment Programme organized for youths of Anambra North Senatorial zone by the state government in collaboration with Anambra Rebirth and Institute for National Transformation at Sharon House, Onitsha, Obi, who said the agreement does not concern the states, however, noted that Anambra State Government was taking all necessary measures to ensure that the issue was resolved.
He noted that the state government had already offered 50 per cent increase in the pay of the striking lecturers and added N31 million to the N50 million subventions to the schools.
Describing his administration as a responsible one, Obi said the state government would not promise what it could not implement with its available meager resources.
He noted that none of the state universities in the entire South-west and South-south including Lagos and Rivers states with their high revenue profile and high school fees had implemented the new salary structure.
The governor said his administration was determined to build a new state with wider opportunities for all and urged the youths to be part of the new order, adding that students would be sponsored abroad to study on state government scholarship while thousands of employment opportunities would be created as from next year.
The state government, he explained, was working with the Federal Government to boost power supply to further empower industries and other businesses while measures were now in place to restore commitment in teaching.
In his address, the secretary of Anambra Rebirth, Dr. Okey Ikechukwu, urged the youths to take the programme seriously to reciprocate Governor Obi's support and concern for their future.
Responding on behalf of the youths, Miss Onyebuchi Okeke, expressed gratitude to the governor for his efforts to transform the state and restore hope to the youths.